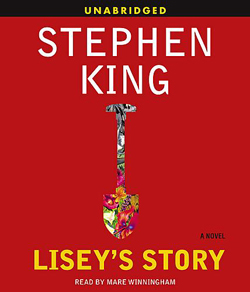 Lisey's Story
is one hell of a book. It's so rich that you almost forget some on the side stories while you read it. There is one story about the past, there is one story about the present, there is one story about a sister and there is one story about a young boy…and they are all connected.
It has influences from both
Bag of Bones
and
The Talisman
and from time to time you get the feeling that King is about to connect
Lisey's Story
to any of those books but just as you think it, the story turns and take another direction.
It's also very hard to categorise. It's not a horror story but it has elements of horror, it's not a ghost story but there are ghosts, it's not a romance novel but it sure has a love story in it. I guess the only category you can put it in is the Stephen King books category…
Lisey's Story
is the story about Lisey Landon who after her husband, the famous author Scott Landon's death discover there's a lot she didn't know about him…or that she didn't know that she know about him. As the story moves on we, and she, get the full story of Scott's complicated life. His childhood with an abusive father, his trips to a place he calls Boo´ya Moon and about Bools, Blood Bools in particularly.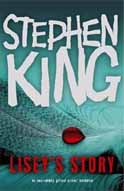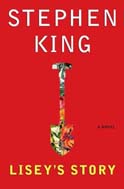 When you read
Lisey's Story
you get the feeling that King in some parts is writing about maybe not himself, but his own situation. As far as I know he isn't but some of the things he says about the fans, the readings, the incunks, Lisey's word for the people that wants Scott's unpublished works at any price makes me wonder. It feels like all this could be taken from his own experiences as an famous author…
This time I both read the book and listened to it on audio CD and both where a very pleasant experience. The book because there is always a very nice feeling the first time you crack the spine on a new King book. The audio because it's brilliantly read by Mare Winningham and as an extra bonus, the afterword is read by King himself. This combined with the fact that it's a very good story really made my day…or day's in this case.
The book is just over 500 pages long and on audio it's about 19 hours. In other words your in for a treat so stop wasting time on the Internet and run out and get it…NOW!
Lilja's final words about Lisey's Story:
Whether you get the book or the audio is up to you but please know that Mare Winningham has a voice made for narrating and hopefully we'll hear more from here in the future.