REVIEW
Stephen King: Uncollected, Unpublished
Posted: October 19, 2006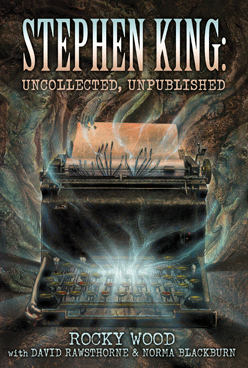 After finishing
Stephen King: Uncollected, Unpublished
by Rocky Wood I must say, this is every collector and King fan's dream book. Not only do you get info about every known uncollected and unpublished King story, you also get one story and one poem, both previously unpublished.
Let's start with the story and poem…
The story is chapter 71 of King's unpublished book
Sword in the Darkness
. Before I read it I was a bit sceptic to why they would publish a chapter from somewhere in middle of the book? Would the reader be able to follow the plot? But as usual Rocky knows what he's doing. The chapter deals with one of the main characters background and is totally isolated from the rest of the story.
The biggest surprise though was to see how good it was. You got to remember that this was written back in 1970 by a very young King and even though you notice that the writing style isn't exactly the same as today, much of the story could have been written yesterday. That was very interesting to see and I agree with Rocky when he says that King easily could put this one in the next collection without being ashamed of it. In fact, I would be a bit disappointed if he didn't.
The poem is
Dino
and it has actually been published once in Salt Hill Journal in 1994. It was then lost for some time and just recently surfaced again and now you get to read it. Personally I'm no big fan of poetry but still it's interesting to see how King handles it.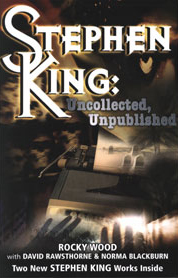 The rest of the book deals with uncollected and unpublished works that King has done. The book covers no less then 51 unpublished and 46 uncollected works of fiction. These 97 Works include novels, shorter works of fiction, 24 screenplays and 9 poems. I did tell you it includes a lot, right? The info is so detailed it almost feels like you have read the pieces after reading this book, which is a nice feeling.
The only negative with the book though is just the fact that you end up wanting to read all the stories you have read about and let me tell you one thing up front, you are not going to find all of them. Some is available if you know where to look but far from everyone. So, even though it's great to learn about them I can't help feeling an urge to get my hands on them…
One other thing that I don't like about the book is that all the footnotes are at the back of the book and it gets very annoying to having to flip back and forth. I would have wanted them at the bottom of each page. It would have made the reading much easier.
The book has been released in two versions. One is a limited edition from Cemetery Dance and the other is a trade paperback from Landmark Press in Australia. Since the one from Cemetery Dance is limited it's more expensive then the Australian edition so if you don't have that much money and just want to read it, go for the cheaper one. If you want to have a nice book in your bookcase and if you can afford it, go with Cemetery Dance's edition…if they have any left.
Cemetery Dance's edition comes in a slipcase and is limited to 2,000 copies. It's also signed by all three authors.
Lilja's final words about Stephen King: Uncollected, Unpublished
Stephen King: Uncollected, Unpublished
is a book that should be in every fan's collection. Most of us are really interested in knowing more about King's work but even if your not you get a brand new (old) story. Not bad if you ask me!