REVIEW
Masters of Horror 7-10
Posted: August 24, 2006
So four more episodes of
Masters of Horrors
has been released on DVD (some in the US and all four in Sweden). Among these four we get to see the episode by Mick Garris, he man behind the project and the episode (
Imprint
) that was so gruesome that it couldn't be aired on TV.
I have just seen them and I'll tell you what I think of them and if
Imprint
in fact could have been shown on TV.
Including these episodes I have seen 10 of the 13 episodes and so far and the general felling I get is that they are good and have a style that makes them connect with each other. It is really like a series and not just a bunch of movies that has been put together. I don't know if Garris had that in mind when he decided which stories should be included (I guess he did) or not but either way, it's the case.
So, with that said. Let's get on with the four episodes I have seen this time.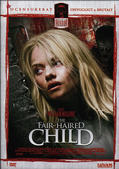 The Fair-Haired Child by William Malone
The Fair-Haired Child is about Tara who finds herself kidnapped in a basement together with a boy she doesn't know. As it turns out the boy, Johnny is in fact the son of the kidnappers and the reason he is down in the basement with Tara is because his parents did a terrible mistake when he was a child. A mistake that cost Johnny his life and now Tara is his ticket back…
The special effects in this one is really good and when the monster in the basement moves it's in a jerky way that makes it so much more frightening. The plot is pretty classical though. Two parents who want to help their child because they messed up no matter what the costs are.
As usually the plan backfires though and in
The Fair-Haired Child
it backfires in a very satisfying way…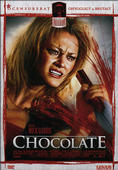 Chocolate by Mick Garris
Newly divorced Jamie awakes one night by a strong taste of chocolate in his mouth. At first he can't understand what's happening and dismisses it as a dream. Not long after that though other strange things are starting to happen. He is starting to get short glimpse/flashbacks of someone else's life. He is actually seeing things through a total stranger's eyes…
As times passes and these flashed keeps appearing he find himself falling in love with this, to him unknown, woman. Jamie gets possessed by the idea that he has to meet her. That she is his dream woman, his soul mate. In a brutal way he sees that that may not be the case though…
This is a very sexy story with a touch of the supernatural more then horror. Its non-the-less a very interesting story and the fact that Garris is using, what I guess is one of his favourite actors Henry Thomas, makes me very happy. Thomas is a very good actor. You could also see Henry Thomas in Garris Desperation and also in the episode End of the Whole Mess from Nightmares & Dreamscapes earlier this year.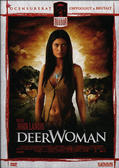 Deer Woman by John Landis
Deer Woman
by Landis is probably the episode done with the most comedy in it. As a police detective who is assigned to the animal attack unit on the force starts investigating a series of brutal murders where the victim seams to have been beaten to death with a deer leg he realize that it may actually be a series of animal attacks after all and that the perpetrator might not be human...
After hearing the legend about Deer Woman he is convinced that it's Deer Woman that is his perpetrator. Off course he is laughed at by his colleges but as more victims' starts to appear he gets more convinced that he is right and one night he gets his hoof, sorry proof.
This is a horror episode with a lot of comedy in it. It's hard to take it seriously but that doesn't mean that it's not an entertaining episode. I will admit though that I laughed more then I screamed…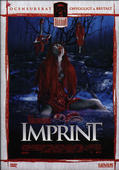 Imprint Takashi Miike
So, we have reached
Imprint
by Takashi and I can tell you this much. I do understand that they didn't want to air it on TV. It's a very gruesome episode that includes incest, abortion and rape. Nothing you want to have with your TV dinner in other words.
How was the story itself though one might ask, if you look past all the gore. Well, it was actually quite good. And believe me there is a story. It's not just gore in this one. The story is about an American journalist that is looking for his long lost love. During his search he arrives at a far away located island where you can, for a small amount, be entertained by the local women. During his stay there meet a woman that knows what happened to the love of his life…and as it turns out, here faith isn't pretty…
As with the previous 6 DVDs I have reviewed these four also have a lot of extra material. That is one of the biggest differences between Masters of Horrors and a regular TV series released on DVD. Since these are released one episode at the time there are room for more extra material then if they had all been crammed into a box set. On the downside the price is higher though, but I leave it up to you to decide which is most valued, the price or the material on the DVD…
Lilja's final words about Masters of Horror 7-10
All in all these episodes are very enjoyable and I recommend that you see them all and while your watching
Deer Woman
, keep an eye out for a cameo by Mick Garris…