Horror Plum'd
Posted: December 11, 2002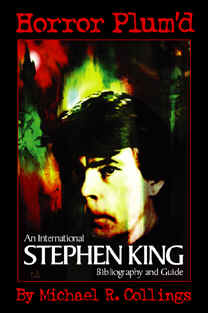 So, finally Michael Collings new book about King's work is here. The book is called
Horror Plum'd
and as usual with Collings books it's filled with info about King's work.
First of all I want to say that this isn't the kind of book you read from cover to cover in one sitting. This is more a kind of reference book. You can use it to find out info about the things King has done. In
Horror Plum'd
Collings lists all King's work and its all divided in sections that makes it easy to find.
In the chapter where Collings lists all the books King has written you find the usual books but also novels, short-fiction collections, non-fiction, reprints & multi-media adaptations of book titles. And if that isn't enough for you, you also get a lot of info about foreign publications of the titles. Here Collings lists the foreign title, English translation of the title, translator, publisher and more. It's a bit more info about some of the titles and less about other depending on what Collings has been able to find. This is really interesting reading! In addition to all this info there are also cover art for almost every US edition of the books.
There is also a chapter that deals with shorter fiction. Here we get info about the excerpts that's been released from King's books, screenplays, short stories, short non-fiction, poetry and more. It's rather interesting to see how much poetry King has written. Not much of it has been published though. Maybe King will release a poetry book sometime in the future?
There are also a section about audio and video adaptations of original King materials. This is not a complete listing of movies based on King's books or the audio editions of his books though. Here is only the ones that King is directly involved in.
After reading
Horror Plum'd
I got curious on where the title came from so I asked Collings and it turned out it was a phrase from John Milton's 17th Century epic,
Paradise Lost
. John used the phrase to describe Satan, dressed in armor and with 'horror plumed. Collings used it as a compliment to King's storytelling power as well as to the epic scope of his vision.
You can find the exact passage from
Paradise Lost
opposite the title page. Here you can read it in its context. Don't miss that.
Lilja's final words about Horror Plum'd:
So, is this a book you should get? Well, if you ask me I say definitely! Get a copy the same day it's released! But be prepared on that this is a reference guide, not a biographical book about King's life. If that is what you're looking for there are other books better suited for that purpose. But if you want an excellent guide to King's work, this is the book! Horror Plum'd really made me happy!

Horror Plum'd is released from Overlook Connection Bookstore January 6, 2003.