REVIEW
Masters of Horror 1-6
Posted: June 3, 2006
Masters of Horror
is just what the name says. It's 13 of the masters of horror brought together by Mick Garris. They have all done one 1 hour episode and together they are season 1 of
Masters of Horror
(season 2 will premier around Halloween this year). In this review I'm taking a closer look at the first 6 episodes.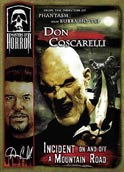 This series feels very fresh and almost like a new and more modern version of
Twilight Zone
or
Tales from the Darkside
. And since the episodes are as long as they are it almost feel like they are all stand alone movies at the same time as they are part of this TV series. The entire project feels very interesting.
The six I have taken a look at are:
Incident On and Off A Mountain Road by Don Coscarelli
In this episode Ellen is in an accident with her car on a lonely road. When she gets out of the car (pretty unharmed) she sees a man that she thinks is here salvation but as it turns out he is the opposite, here doom.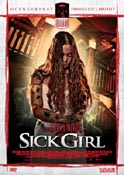 Fortunate for Ellen her husband was obsessed with her learning to take care of herself and that thought her skills that she now finds very useful. This is a pretty intense episode and the ending is very unexpected to say the least.
Sick Girl by Luckt McKee
Sick Girl
is the story of Ida who is a scientist that specialize in bugs…and takes her work home with her. Here apartment are filled with different bugs and she treats them like any other pet…much to her landlord's distress.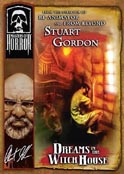 Around the same time she gets involved in a love affair with a woman by the name of Misty she receives a package at her doorstep. In the package is a bug she has never seen before. She thinks it's a bit unusual but is very happy to have him…until he escapes and starts acting very strange…to say the least. This episode is a typical
Twilight Zone
episode.
H.P. Lovecraft's Dream in the Witch-house by Stuart Gordon
Here we see the student Walter that manages to open a door to another dimension in which he encounters a witch in the shape of his neighbor. As time goes the witch wants him to start sacrificing children and Walter finds it harder and harder to resist.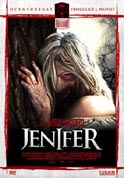 At the end he can't tell what's real and what's not and he finds himself going crazy…or, is it all real?
Jenifer by Dario Argento
Jenifer
is probably the best one of these first six episodes. It tells the story about how a cop Frank saves Jenifer, a disfigured girl from a man that is about to chop her up in pieces. What he doesn't know is that saving Jenifer is the biggest mistakes he'll ever do…
In the lead we see Steven Weber who has become one of my favorite actors. And as usual he doesn't disappoint you.
Homecoming by Joe Dante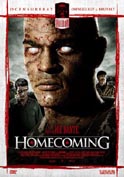 If
Jenifer
is the best episode
Homecoming
is probably the slowest one of the six mentioned here. It's a typical
Twilight Zone
episode in which a man wishes a dead soldier where able to return from the dead to save his face in a TV show.
And surprise, that is just what happens. The only thing is that he is not coming alone. All the soldiers that have died in war returns from their graves and demands, not as you may expect, brains but instead they demands an end to the war.
Cigarette Burns by John Carpenter
We have the best (
Jenifer
) and the slowest (
Homecoming
) episode if the six reviewed here…and here is the most disturbing one.
Cigarette Burns
is very good but also very disturbing. It tells the story of Kirby who is hired by people to find things…that no one else can find. One day Udo wants him to find a movie…a very special movie Le fin absolue du Monde.
What neither Kirby or Udo know is that once you start the movie there is no getting back. You have now open the gates to Hell and what you see won't be pretty…
In the US these DVDs are released by
Anchor Bay
and in Sweden they are released by
Njutafilms
and I want to thank both companies for sending the review copies.
All the DVDs have a lot of extra material such as behind the scenes, interviews and trailers. The US editions however has a bit more then the Swedish such as commentary tracks by the directors and cast.
Lilja's final words about Masters of Horror 1-6
I would suggest that you get all these DVD's but if your only going to get a few of them, make sure you get
Jenifer
and
Cigarette Burns
. You won't be disappointed.