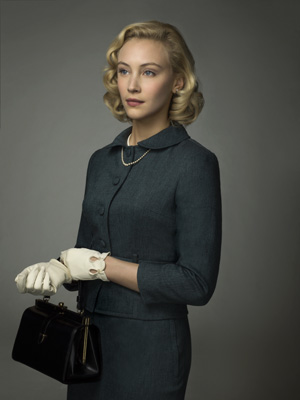 I got the chance to speak to the lovely Sadie Dunhill...oh, sorry Sarah Gadon who plays Sadie in 11.22.63 and I asked her where she would go if she could go back in time. Read on to see what she said.

Lilja: Thanks for taking the time to answer my questions. I want to start with asking you how did you get the part as Sadie Dunhill?

Sarah Gadon: I was doing press in NY when the request to audition came in. I was strapped for time so I made a tape on my iPhone in my hotel room. That iPhone tape booked me the job. Thanks Apple :)

Lilja: Had you read Stephen King's book prior to getting the part?

Sarah Gadon: I didn't read the novel before I got the role, but I fell in love with the story immediately. Stephen King is one of the greatest living writers, so to have the privilege of telling one of his stories is certainly a career high point.

Lilja: What inspiration did you get from the book?

Sarah Gadon: There is something undeniably special about Sadie in the book. It's not just Jake who falls for her, the reader does too. I wanted to preserve her gumption, her humor and her integrity because these were qualities that really spoke to me as a fan of the book.

Lilja: How did you prepare for the role?

Sarah Gadon: I did all kinds of things to prepare for the role. I worked with a dialect coach, Brett Tyne, who helped to perfect Sadie's southern drawl. I immersed myself in the history and culture of the time. Let's just say, I listened to a lot of Patsy Cline.

Lilja: Are you a fan of Stephen King and if so, what is your favorite book of his?

Sarah Gadon: I love Stephen King. I think my favorite book is The Dead Zone. It also happens to be one of my favorite adaptions because David Cronenberg directed it and he's one of my favorite directors. I've been lucky enough to work with him three times. Cronenberg and King are a match made in heaven (or hell).

Lilja: If you could go back in time and decide yourself to when, where would you go?

Sarah Gadon: I'd like to go back in time to the heyday of the Nickelodeon. I'd find Nell Shipman somewhere between Canada and the United States and I'd buy all her films (for ten whole dollars) I'd also tell her to lay off the booze and troublesome men. Then I'd take those films back through the rabbit hole and preserve them so that she would become well known to people everywhere as one of the first great female filmmakers and actors. Why I'd even make her a national treasure and put her on the Canadian nickel.