Norman Reedus
Posted: October 17, 2011

_

This was the first time I participated in a conference call for an interview and it was actually a rather pleasant experience. If you're not familiar with the concept, please let me explain. All the journalists that's participating gets a number to call and also a code to enter. After doing this we get to tell the moderator who we are and what outlet we're calling for. Then the person being interviewed, in this case Norman Reedus, joins and the moderator calls out our names one after the other and we all then get to ask two questions each but listening in on all the others questions. The downside to this version of interviews is that you don't get to ask all the questions you want (I'm very happy with mine though) but I can definitely understand why they are doing it this way. For this interview we where nine journalists and it would have been hard work for Norman to speak to us all one on one.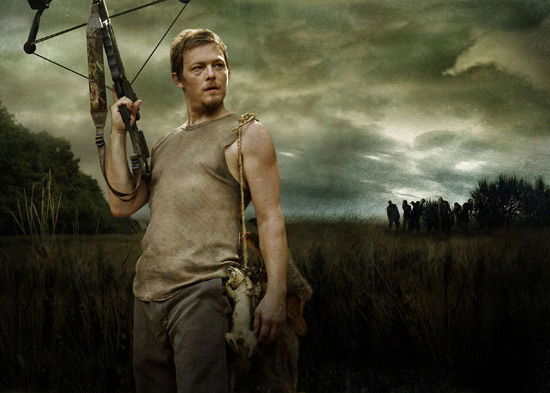 My first impression of Norman is that he is a very down to earth guy that's very happy with where he is and that so many people like what he's doing. And it sounds like he hasn't really understood yet how bit his character really is...

The first questions deals a lot with the show and what we'll get to see this second season. Norman tells us that his favorite Zombie for this season will be seen in episode 7 (if he remembers correctly) and even though he can't tell us much about it he do tell us that it's big and wet. Sounds like something Greg Nicotero could create.

He tells us that we'll be seeing more of Daryl's childhood and how it's effected him to having a big brother like Merle. He also says they try to follow the comic as much as they can but are adding stuff that isn't in the comic (Daryl isn't in the comic) but since Robert Kirkman (the creator of the comic) is one of the writers he keeps an eye on them and won't let them get to far of the path.

Then it's my turn. I start by asking how he feels about the fact that a few days after the premier of season 2 in the US the season would premier in over 120 countries (reported by Gale Anne Hurd on twitter). Norman said it got him a bit nervous but also that it made him feel great. He travels a lot and love to meet people all over the world and that he is excited that they all can follow The Walking Dead. When I told him I live in Sweden he revealed that he has family in Scandinavia and that his son actually was born in Copenhagen, Denmark.

I then asked how he got the part of Daryl and it turns out he auditioned for the role of Merle (Daryl's brother) but the part was already cast. However, Frank Darabont liked him so much that he actually added the part of Daryl, specially written for Norman, just because he liked his performance that day. How's that for giving a good performance?

Then my part in the spotlight was over and I was back to listening again...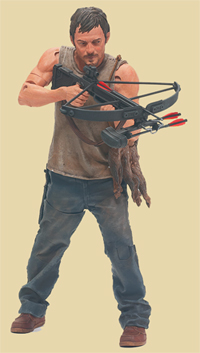 The following questions spread over a wide range and Norman told us that one of the biggest differences between this show and others is that the entire cast is invested 100% in the show. They talk to each other and help each other get their scenes better and better and really work on bringing out the best of everyone.

The character Norman is really struggling with his personality. He is a hunter and a tracker and at that he's very good. But when the others try to talk to him as an adult or gets to intimate he doesn't respond very well. It's a really interesting character to play and there are a lot of Norman in Daryl.

Norman also gets asked how he feels about having an action figure created after his character in the series. Off course he likes it and to be honest, who wouldn't? The only problem is that the action figure had bigger muscles that Norman had so he had to go to the gym a lot... His son is understandable very pound of his dad and if Robert Kirkman where to put Daryl in the comic as has been rumored there would be no end to his joy.

The last question is if there were a big deferens when Glen Mazzara took over after Frank Darabont as showrunner. "Glen was handpicked by Frank so it's not that he's someone new that just popped up on set. He has the same visions as Frank did and off course it was a chock at first but then it got the cast even tighter and we all worked even harder to keep the series as good as it had been in season 1". Glen had his doors open and wanted their opinions on stuff so even if we never really find out what happened with Frank the result of it made the cast form a tighter circle, with Glen in it, and work even harder.

And with that the interview is over. Norman is curious to know how many of us there where and when the moderator tells him we where nine he sounds very surprised and says it's the weirdest phone call he has ever had. And like I said earlier, I don't think he's fully understood yet how big the show and his character really are...