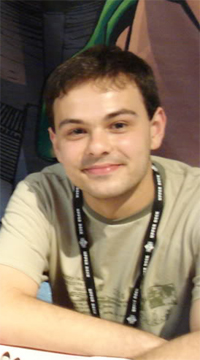 Lilja: So, tell me a bit about yourself. Who are you and what have you done in the world of comics?

Rafael Albuquerque: I'm a Brazilian comic artist who broke in US comics in 2005, trough Boom! Studios series Jeremiah Harm and Savage Brothers. In 2007 I have published an owned creator book called Crimeland, and , in 2006, I´ve started to work for DC Comics, working in titles like Blue Beetle, Robin and Superman/Batman.

Lilja: How did you get involved with American Vampire?

Rafael Albuquerque: I was in contact with Will Dennis, for a while, talking about the possibility to illustrate something for Vertigo, with a more "natural" art style I was doing in indie comics here in Brazil. After a long time talking he and Mark Doyle, his assistant at the time, came up with the project where my style could be a good fit. I did some characters studies and then they invited me to jump on.

Lilja: Is it different to illustrating Stephen King and Scott Snyder? Are their styles different?

Rafael Albuquerque: Yeah, it's pretty different. Since the storylines are happening in different years, I tried to make it clear on the art style, so, for Pearl´s arc, that happens in 20ties, I tried to do a very contrasted black and white art style, to bring that old mute movies feel to the story. For Skinner´s, written by Steve, Sergio Leone´s dirty and gritty movies were my main reference, so I did greytones and washes for this part of the story.

Lilja: Was it a conscious move on your part to get the stories illustrations as much alike as you could or did that just happened?

Rafael Albuquerque: When I was hired, Will said that I was called because they wanted someone who could do different styles on the same book, but nobody told me how to do it. I didn't really know how I would draw Stephen´s story until the moment I had to do it.

Lilja: How much did King and Snyder have to say about the look of the characters in the comic?

Rafael Albuquerque: Scott provided me a lot of references, of clothes and actors, but that kinda helped me in a different way. I tried to get the feel these actors had in common and tried to add on the character I was creating, not exactly basing it on his look, but more in his personality.

Lilja: Is it scary to illustrate Stephen King's words? I mean he is one of today's biggest authors?

Rafael Albuquerque: The first issue was really scary. I was tense and wasn't really sure about the style. After drawing some pages, I felt way more confident. They also gave me a lot of creative freedom and really hear my ideas, so it really works well because we are working as a team.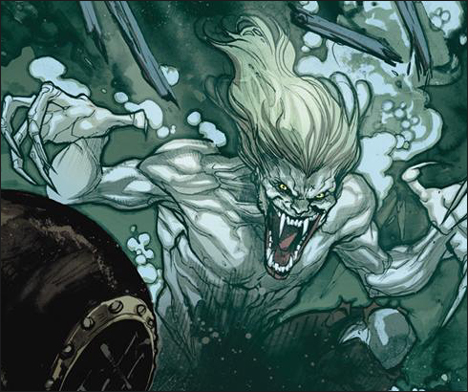 Lilja: Where you a fan of King's work before American Vampire?

Rafael Albuquerque: I never read many books, I have to admit. I knew his work, of course, but more through the movie adaptations than his actual work. Now, we are working together I'm eager to read his books more and more.

Lilja: Has either King or Snyder had any objections to your illustrations?

Rafael Albuquerque: As I said, it's a team work. Sometimes, when someone has a better idea, of course, they say, we change... I have the same freedom on the scripts. Sometimes what is drawn is not exactly what was written, but that's because we are always talking about the best way to make the book.

Lilja: The issue isn't as colorful as most comics, did you have any say in that?

Rafael Albuquerque: Well, when you have one of the best colorists of the industry working on your art, you don't really have to say much. Dave just understood the mood, the art style and made everything perfect. Sometimes we have suggestions, but colors matters is all his call and I totally trust in what he does.

Lilja: Are you in for the long run with American Vampire? Will you illustrate all issues?

Rafael Albuquerque: Yeah, the idea is staying as long as it is still fun, and I have to say, I'm enjoying the hell out of it.