I recently spoke to Kristen Dalton who plays Dana Bright in the hit series The Dead Zone. Here is what she said.

Lilja: Hi Kristen. Let me begin with thanking you for doing this interview! Tell me, who is Kristen Dalton? What have you done before The Dead Zone?

Kristen Dalton: The Dead Zone is the first television series that I have been a part of. I have worked for USA television before though, in a movie called "They Nest." It was about a small island off the East Coast that becomes infested with a rare type of roach. The bugs just happen to need warm bodies to lay eggs in...Yucky. I was "Nell." She was the total opposite of Dana Bright. Earthy. Blue-collar. But still fiesty!

I also portrayed Tina Louise/Ginger Grant in a movie for CBS called "Surviving Gilligans Island." That was like a dream come true. I've always loved the series growing up. Then just a year later I starred as Audrey Meadows/Alice Kramden In a biopic about Jackie Gleason. It was so fun to re-create "The Honeymooners." She was so completely opposite of Ginger as well. I like to be challenged by my work. The Dead Zone keeps me pretty busy right now...

Lilja: How did you get the part of Dana Bright in The Dead Zone? Did you audition or did they handpick you?

Kristen Dalton: I met them originally when they were looking for Sarah. It wasn't a good fit so they moved on and shot the pilot. They wanted more from Dana Bright and wanted to re-cast the role when the series was picked up and they remembered me.

Lilja: When I first saw Dana I got the impression that she wouldn't be a permanent character in the series. I thought she would just be there for a few episodes and then disappear. What that the original plans and if so, what happened? Or was it just my imagination?

Kristen Dalton: The Pillers, who created the series saw a real opportunity to introduce her as a love interest other than Sarah. Someone who would represent the future instead of his past, which had obviously moved on. Someone strong. And also, being a reporter, she can offer help to Johnny. She saw him as an opportunity as well, especially early on. But as time goes by, I think that Johnny has helped her grow a great deal...

Lilja: Are we supposed to like or dislike Dana? Sometimes she can be really sweet but sometime she can be a b***h as well, particularly to Sarah.

Kristen Dalton: There is the obvious tension since we are both in love with the same man. I don't think she is a bitch. She's a strong woman who has grown past playing games. Part of her growth with Johnny is that she wants to help him find some closure on his past life and so I think she tends to pull no punches with Sarah. To try and make her see things more clearly. She also likes Walt and doesn't want to see him hurt. If people like or dislike Dana will depend alot on how they feel themselves about a strong, direct woman...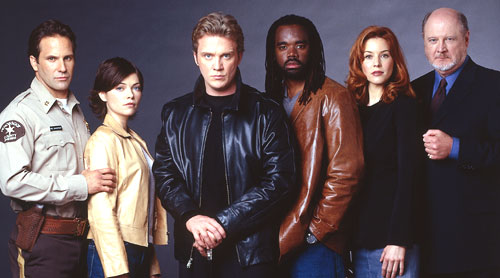 Lilja: How would you like to see the character develop? We know she is interested in Johnny but they can't seem to get it off of the ground. Do you hope that they will or would you prefer the game they play now?

Kristen Dalton: Dana and Johnny have so much in common, I'd like to see them share those things a little more. They have both had rough times in their lives. The thing about someone like Dana is that if Johnny would commit, she'd always be there for him. She's very tenacious. She has had to be to survive. I'd like to see her be more of a safety net for him at times.

Lilja: What's up next for you? I hear there will be six more episodes of The Dead Zone added to season 2 but what after that?

Kristen Dalton: We won't really know about "The Dead Zone" until later in the year but I am considering a couple of film roles in the meantime, so we'll have to wait and see...

Lilja: Has there been any decision about a third season?

Kristen Dalton: We're keeping our fingers crossed. A lot of it depends on the people who like the show letting USA network know that they want it back.

Lilja: Would you be interested to continue to play Dana if there where to be a third season?

Kristen Dalton: As long as I keep getting to grow and develop as a character, I would love to do more.

Lilja: Where you a fan of King (if you are now) before you got involved in The Dead Zone? Had you read the book before you got the part?

Kristen Dalton: The only book of his that I had read before I got the role was "The Shining." He's a little to visceral for me. I prefer non-fiction. Science. Biographies. Things like that. But I did enjoy "The Dead Zone" very much.

Lilja: OK, thanks for this talk. Do you have any last word for all the fans out there?

Kristen Dalton: Keep watching the show and writing in to let them know you love it! I'll be updating from my web-site as well, so make sure and check in (KristenDalton.com) The more that USA Network believes in it, the more that we can continue to provide something worth watching...

Thanks Lilja!!

Lilja: Thank you Kristen!