NEWS - MILE 81
Posted: January 10, 2012, 00:00:00
OK, I don't know about you but I love contests. And what can be better to do when you love contests than having one? And since the audio edition of Mile 81 happens to be released today, how about if I give five of you the chance to get a copy for free?

This time you will have to work for it though and here is how.

You will have to figure out what book by King I'm thinking of right now. Easy, isn't it? Well, I will help you on your way. Between January 10 and 13 I will give you clues on Lilja's Library's facebook group. You can then decide when you want to submit your answer (you submit it here) and you can do it whenever you want between January 10 and 13 but be careful. You only get one chance and then you're out of the game. But don't wait too long either because it's five that gives me the correct book title first that wins the five copies of Mile 81.

You don't need to "Like" the Lilja's Library group but if you do you'll know faster when I have posted a clue. Because I won't tell you in advance when or how many clues there will be. OK, I will say that the first clue is on the facebook site now, there will be at least one each day and I will tell you when I post the last one.

OK, good luck to you all!
Posted: January 9, 2012, 23:20:00
January 10 Simon & Schuster Audio releases Mile 81 on audio and here is my review of it.
Posted: December 28, 2011, 12:11:12
This one arrived in the mail today. It's released on January 10th and includes both Mile 81 and The Dune. Pre-order your copy here.


Posted: December 16, 2011, 00:26:26
Mile 81 is released as an audio book on January 10, 2012 and here is an excerpt from it. And you can pre-order it here today.
Posted: December 5, 2011, 16:42:25
Edward Herrmann and Thomas Sadoski will narrate the audio edition of Mile 81 that's released on January 10, 2012.

Judging from the cover it looks like it will also contain the short story The Dune.
Posted: September 26, 2011, 21:43:28
Simon & Schuster Audio will release Mile 81 as an audio book (on three compact disk) in January 2012.
Posted: September 1, 2011, 00:00:01
Here is my review of Mile 81. Please know that it contains some small spoilers though...
Posted: August 25, 2011, 12:29:46
But only if you live in the US... Scribner, StephenKing.com and Klout are running a contest where you, if you submit some info and live in the US, can win a copy of Mile 81 6 days before it's release. You can read more about the contest (who is open between 6:00am and 11:59pm EST today 8/25/11) here.

Not living in the US I was naturally a bit bummed out about not being able to enter but then I read this "As an added bonus, those who are chosen will also receive a link to forward a second digital copy of Mile 81 to a friend". So, if anyone wins and don't know who to send it to, maybe Lilja@Liljas-Library.com would be a good choice?
Posted: August 17, 2011, 20:04:02
Here is the UK cover for Mile 81. You can pre-order your copy here.
Posted: August 15, 2011, 13:20:59
Good news for all non US King fans. UK based Hodder & Stoughton will publish a non US edition of Mile 81. Release date and format is like the US edition; September 1st and as an eBook.

From Hodder.co.uk:


Mile 81 - The exclusive e-book from Stephen King

The spine-chilling new e-book and excerpt from 11.22.63 coming September 1st, 2011

Mile 81 is the chilling new eBook coming September 1st 2011. With the heart of Stand By Me and the genius horror of Christine, Mile 81 is Stephen unleashing his imagination as he drives past the Mile 81 road sign.

Available now for pre-order from all good eBook retailers.

Posted: August 11, 2011, 10:50:41
In the US iTune store you can get a short preview of Mile 81.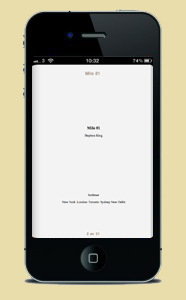 Posted: July 16, 2011, 00:50:55
David over at Talk Stephen King told me that King's official site now has more info aobut Mile 81 and that it will contain an excerpt from 11/22/63.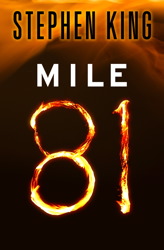 Posted: July 15, 2011, 01:05:06
Here is the cover for Mile 81 and as far as I can see the book will only be released as an eBook.
Posted: July 14, 2011, 19:10:22
King has a new novel being released on Sep. 1st called Mile 81. Read more here.

Thanks to Ari.