NEWS - CHILDREN OF THE CORN 8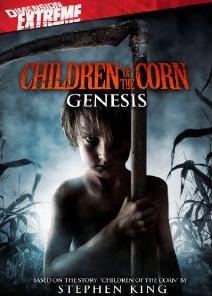 Posted: September 5, 2011, 11:49:11
Children Of The Corn - Genesis; a truly bad movie you do not need to see. Read my review here
Posted: August 19, 2011, 08:38:52
Dread Central has the first official photos from Children of the Corn: Genesis.
Posted: August 16, 2011, 10:31:10
Could it be the case? Could Children of the Corn: Genesis be the best Children of the Corn movie so far? Well, acording to this reveiw it is...
Posted: August 13, 2011, 00:46:24
Here is the trailer for the upcoming Children of the Corn - Genesis and if the movie is as bad as it looks here I understand why they didn't want to send me a review copy of it...

Thanks to Herbert West
Posted: June 17, 2011, 00:05:14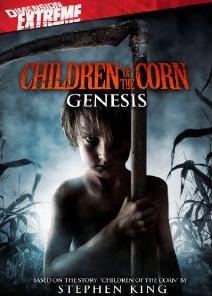 Children of the Corn – Genesis is being released on DVD and blu-ray in the US on August 30. The film was released in a drive-in earlier this year, with the latest Hellraiser movie but after that it's been quiet about it but not its about to be released...if anyone is interested in seeing it.

Thanks to Jérémy Guérineau
Posted: September 15, 2010, 23:01:38
Some people never give up. According to this news from Bloody Disgusting a new Children of the Corn movie starts shooting this month.


Moviehole.net reports that the beautiful Barbara Nedeljakova, best known for her role as the sadistic seductress Natalya in Hostel (and briefly Hostel: Part II), will star in Children of the Corn: The Dweller, the latest in the franchise first reported on here. The latest in the perpetual Corn series is written and directed by the talented Joel Soisson (Pulse). Shooting this month, "Dweller" fixes on a family whose car overheats, rendering them stuck in the middle of nowhere. They come across a couple - with a weird kid - who take them in. Nedeljakova has also appeared in the films Doom and Shanghai Knights.

Thanks to Al Mattice
Posted: December 12, 2003, 20:36:00
Joe Harris talks about Children of the Corn 8.

Here is what he said acording to Bloody Disgusting:


"Darkness Falls scribe Joe Harris told us there's little movement on his Children of the Corn sequel, but that he's got some great ideas for it. "I've written the next installment of The Children of the Corn franchise for Dimension, I've also been working on a slew of new horror and comic book-based movie projects that will cause a lot of my friends, fans and even enemies to raise an eyebrow". So what's the idea for "Corn 8"? "Make it scary again. The original concept and story in Stephen King's novella (which really did come across in the first film) is creepy as hell: children killing adults, for the glory of God (such as it is). I think kids are scary. They shouldn't be but they are, to adults. I want to get back to that exhilarating fear of being chased through the cornfields by scythe-wielding children. I want to bring out these children's inner 'Lord of the Flies' and get away from the neo-Amish vibe they give off. My children hunt in packs and pile on once they bring down their prey. They don't stop tabbing, ripping and tearing until you're dead. Then they feed you to the Corn God. This stuff should make you go, "Holy ****ing ****!" It will, if I have my way."

Posted: July 9, 2003, 20:35:00
Some new info about Children of the Corn 8 has now been revealed:


The Talented "Tooth Fairy" himself, Harris has been talking on his official site again about the next "Children of the Corn" installment, which he's attached to. "I'm not able to answer anything specifically just yet, but we're not going to be dredging up the past any more than we have to. COTC: Whatever (it's not named yet and typing the number '8' makes my head hurt) will maintain the spirit of the original film and the Stephen King novella. It will be scary with hardcore thrills and disturbing deaths with elements you'll recognize as signatures of the franchise (chases through cornfields, deaths by sickles, teenage sex, sacrifices and the triumphant return of He Who Walks Behind the Rows included). It will take place in Gatlin and will draw on the history of that town as we know it", says Harris. "There's a lot of enthusiasm building behind this project. Stay tuned. I wouldn't have it any other way."

Seems fans of the series want to know whether this new instalment will have anything to do with the previous 7 films. "No one needs to have seen any of the previous movies to know what's going on at all. That's how it should be when you're trying to re-jack the franchise. But if you are familiar with the original movie (and story), you'll probably feel rewarded".

And when can we expect it? "I'm currently working on the script, getting the second draft into shape. We won't be shooting for a while. I'll keep you posted."

Thanks to Moviehole.

Posted: April 4, 2003, 20:33:00
Joe Harris is involved with the latest movie in the Children of the Corn saga. Here is what he sais on Joe's Movies & Comics Backwash:


"I'm involved with the new Children of the Corn sequel (for Dimension), but I'm keeping the exact details under wraps for a little bit. I've got a lot of new projects up and running since Darkness Falls opened", he says. "I'm going to make a dedicated, valliant attempt [to save the series]". He adds, "Rest assured, the spirit of the first film and the original King story will be there. I want to make scary movies. The kind we don't see anymore."

Thanks to Bloody Disgusting.
Posted: March 12, 2003, 20:31:00
Miramax/Dimension have revealed their plans for Children of the Corn 8. Joe Harris ("Darkness Falls") is involved and Michael Grady is playing executive on.

Thanks to Moviehole.
Posted: September 13, 2002, 20:30:00
Apparently there is a 7th sequel to Children of the Corn on the way. Miramax/Buena Vista is now planning to release Children of the Corn 8. No release date has been set and the movie is still in development.

Thanks to Anders and Dark Horizons.