Posted: November 9, 2006, 10:02
_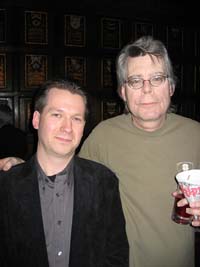 Yesterday I was at a publisher party, arranged by King's UK publisher Hodder & Stoughton, in London. And yes, you guessed it, King was there as well and I got a chance to speak with him for a few minutes. Since the conversation was a lot longer then at the signing I can't recap it all here but I can tell you what we said when I got a second chance to talk to him just as he was leaving.

Lilja: It's a real honor to finally meet you!

King: It's an honour to meet you to.

And with that he was of in the night. I was left with a very nice feeling, a copy of Lisey's Story, a promotional paperweight (they where giving them away at the party) AND a picture of King and me!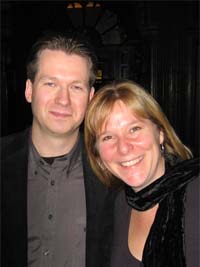 Just as I was planning on leaving I ran into Robin Furth and got a VERY nice chat with here. She told me that 3 issues of The Dark Tower comic was already done and that it looks amazing. No one will be disapointed with it, that is for sure.

I also got a chance to talk to a lot of people from Hodder & Stoughton, including King's proofreader...and it turned out to be an extreamley nice evening.