Posted: September 15, 2006, 23:01
_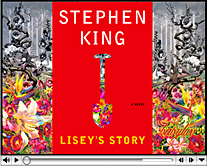 The promotion for Lisey's Story is starting to happen now that it's just a little more then a month left until the book is out. On King's site there are two really cool sites with animated cover art. You can check out those here:

Lisey's Story Art - From Sketch to Final Work

Behind The Cover Of Lisey's Story

Then on Scribner's site you can check out a hand-written excerpt or enter a contest where you can win an ARC.