Try Scribd For Free
Posted: May 23, 2014, 10:00:47
I'm guessing most of you have heard the news that Simon & Schuster has teamed up with Scribd and that you now can read a lot of King's books on Scribd. And now, you can check it out for free.

Scribd works like Netflix but for eBooks. For a monthly fee of 8.99 you can read all you want from their library of 400,000+ books. But it gets better. In collaboration with Lilja's Library and Scribd we can now offer you a free trail (no strings attached) to Scribd. And remember, they just closed a deal with Simon & Schuster that means you can read many of King's book there now.

So, if you want to check this out use this link www.scribd.com/promo/liljaslibrary and the promo code liljaslibrary (already filled in for you if you use the link) to get started. I have and so far I'm liking what I see. I haven't figured out how to see what others have read but keep an eye out for me and let me know what you think about Scribd.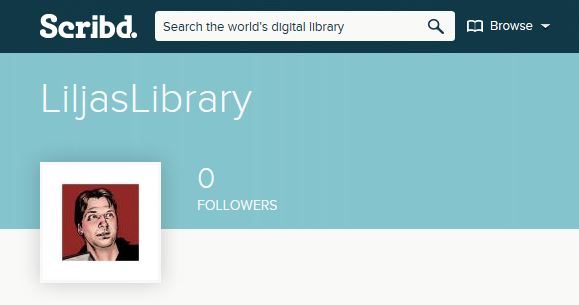 Links:
Additional info about Scribd: www.scribd.com

All of Stephen King's works on Scribd: http://www.scribd.com/stephen6king

Info about Scribd's partnership with King's publisher, Simon & Schuster: http://gigaom.com/2014/05/21/simon-schuster-titles-are-now-available-on-ebook-subscription-sites-scribd-and-oyster/