New shortstory in book about Rock Bottom Remainders
Posted: April 23, 2013, 18:49:16
Hard Listening is an Interactive eBook about the rockband Rock Bottom Remainders. I have also gotten confirmation from the publisher that it will also contain a new short story by King (no title yet) that hasn't been published else ware. In fact, he wrote it just two months ago.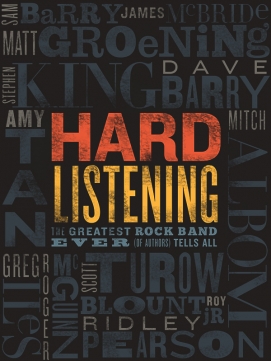 SYNOPSIS
Over 350M books sold. 40 New York Times #1 Bestsellers. One lousy band.

In 1992, a cadre of the world's bestselling authors formed a rock band. Twenty years later, they're hanging up their guitar picks, drumsticks and leather whips, but not without a look back on two decades of friendship, love, writing, and the redemptive power of rock'n'roll.

Hard Listening is a voyeuristic view into the private lives of your favorite authors, combining essays, fiction, candid email conversations, Q&As, and interactive parlor games. See Stephen King, Scott Turow, Amy Tan, Dave and Sam Barry, Roy Blount Jr., Mitch Albom, James McBride, Ridley Pearson, Matt Groening, Greg Iles, and rock legend Roger McGuinn at their most unguarded.