Posted: September 28, 2012, 10:26

_

Here is an interesting press release for a book you might want to check out: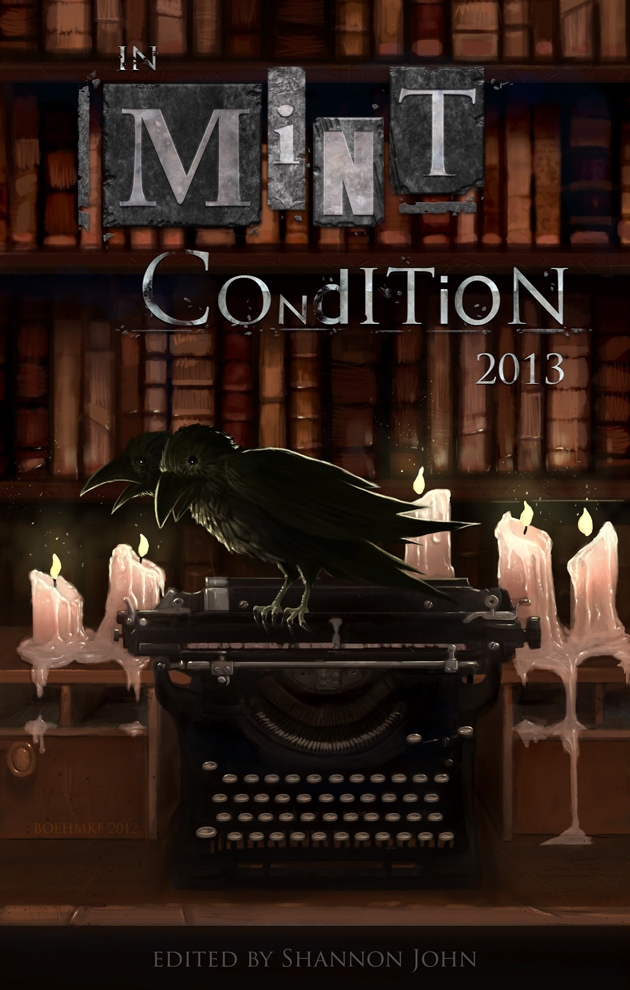 Publisher: Ambannon Books
Editor: Shannon John
Cover Artist (paperback): David Boehmke
Interior Artists: Jill Bauman, David Boehmke, Les Edwards, Glenn Chadbourne, Vincent Chong, Alex McVey, Rachel Readman, Erin Wells. 8 more artists to be announced soon!

Pre-Order Date: Sunday, September 30th, 2012, 10am Pacific Time at AmbannonBooks.com

Publishing Date: Early 2013 (date forthcoming)

Table Of Contents:

1. "Mr. Scratch's Murder Circus" by Jeremy Gooch
2. "The Receptionist" by Bob Ireland
3. "The Train Graveyard" by Ariel Bosi
4. "Seagrass Encounter" by David Swearingen
5. "Brother" by Ryan Wood
6. "A Place On Pine Island" by Matthew Biddle
7. "Pumpkin" by Krystle Tiedeman
8. "Excelsior" by Jean Melkovsky
9. "My First Book" by Janine
10. "The Rule Of Three" by Thomas Cranham
11. "You're The Best" by Tim Martin
12. "Darkness Rising" by Gabriel Ayala
13. "Tabula Rasa" by Hannah O'Connor
14. "Right To Life" by Mike Ziniti
15. "On Monday, I ate my cat." by Jerome Smith
16. "Marvin's Retirement" by Ralph Mulleins

"In Mint Condition"
It is a phrase that has become very familiar to collectors. Whether you are a collector of fine books, antique watches, baseball cards, or comic books, you are always looking for something in mint condition. To be in mint condition, that special something must be of the highest quality. The best of the best.

Taking that idea and running with it, Ambannon Books has collected the very best in brand new, never-before-seen short stories, creative nonfiction, poems, and artwork from the members of the leading Stephen King fansite on the internet, TheDarkTower.org.

Join us on a journey through sixteen stories and poems of unspeakable horrors, inspirational bravery, alternate realities, and the dark side of things that seem so familiar, yet are simply waiting to consume you.

In Mint Condition: 2013 will be released in two editions: A Trade Paperback Edition will be available for $9.99, and a Signed, Limited Hardcover Edition will be available for $49.99. The hardcover edition will be limited to 100 numbered copies only, will feature brand new dustjacket artwork, and will be signed by the editor.

A portion of the proceeds from the Signed, Limited Hardcover Edition will be donated to the Haven Foundation in the name of TheDarkTower.org and Ambannon Books. The Haven Foundation gives financial assistance to provide temporary support needed to safeguard and sustain the careers of established freelance artists, writers and other members of the arts and art production communities who have suffered disabilities or experienced a career-threatening illness, accident, natural disaster or personal catastrophe. Read more about the Haven Foundation here.

Pre-orders for In Mint Condition: 2013 will go on sale at 10:00am Pacific Time on Sunday, September 30th, 2012 at AmbannonBooks.com. The Signed, Limited Hardcover Edition is expected to sell out fast, so be sure you are among the first to reserve your specific number!