Posted: April 13, 2012, 23:45

_

Here is an expanded story synopsis for Ghost Brothers of Darkland County:

A malevolent shape circles around the Café, singing about his effect on the living and his role as a provocateur of bad behavior. In 1967, two lovers appear on a high cliff above Lake Belle Reve, and jump to their deaths. Joe McCandless (stepping out of time) appears to argue with himself as a ten year old (Young Joe) about whether or not to tell a terrible secret. Old Joe pushes the ghost of his own younger self down. We then see Joe lingering in the Dreamland Café, agonizing about whether or not to go "back". Joe is urged to action by the friendly bartender.

It's now 2007. He goes to his family cabin on Lake Belle Reve outside the town of Delight in Darkland County, MS where his brothers' died in 1967, to tell his own sons Frank and Drake his tale of brotherly love gone sour. Frank and Drake's relationship is under a strain as well. Drake stayed home after high school to play with a local band (that will probably always be a local band) while working as a mechanic. Frank, a college boy, will be rich after selling the paperback rights to his novel. Plus Anna, Frank's girlfriend, used to be with Drake. And Drake's band just bombed at the Delight Old Home Days in front of a journalist for Rolling Stone. Monique, the boys' mother, tries to find a way for them all to get along.

The ghosts of Dan, the caretaker, who died in the cabin, Jack and Andy (Joe's brothers), and Jenna, beloved of both Jack and Andy, haunt the cabin waiting to see if Joe will tell their terrible secret THIS time. With his sons at each other's throats, Joe's story will save or destroy the McCandless family.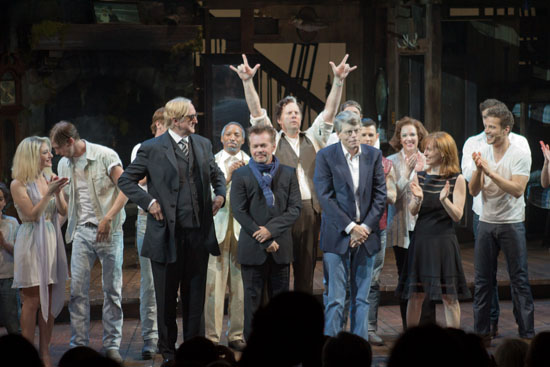 The cast, creators and director of Ghost Brothers of Darkland County following the world premiere at the Alliance Theatre. April 11, 2012. Photo by Raymond McCrea Jones.