Posted: February 21, 2012, 18:47
_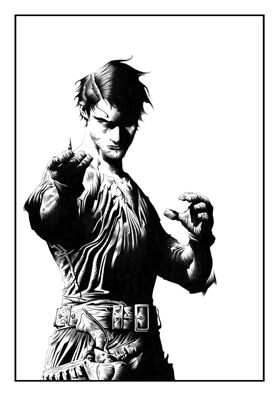 Latest news from Grant about the limdition edition of Winf Through the Keyhole. Don't miss this chance to get your copy FREE!!!

Welcome to issue #77 of the Donald M. Grant Newsletter

21 February 2012

----------------------------------------------------------------
THE DARK TOWER: THE WIND THROUGH THE KEYHOLE
1. STARTING TO SHIP
2. WEB ORDER PAGE
3. SCRIBNER EDITION & AMAZON
4. PRINTED FLYER
5. DELUXE LOTTERY
----------------------------------------------------------------

DARK TOWER: THE WIND THROUGH THE KEYHOLE

1.STARTING TO SHIP

Today we will begin mailing out the Artist Editions of THE WIND THROUGH THE KEYHOLE. When we have caught up with those orders we will begin matching up each number of the Deluxe Edition with the proper customer and begin shipping the Deluxe Editions. We have thousands of orders so please be patient.

We have a small staff and have hired extra help but it will take time to process orders, especially for people expecting a specific
numbered copy. We appreciate your patience.

2. WEB ORDER PAGE

We have added another of Jae Lee's Black & White illustrations to the web page.

Since we began accepting advance orders on December 19 we have received over 3,000 orders. We are accepting orders for both the Deluxe and Artist Editions of THE DARK TOWER: THE WIND THROUGH THE KEYHOLE at:

https://secure.grantbooks.com/z-sk-dt-twttk.html

Please read the rest of this Newsletter before placing your order.

3. SCRIBNER EDITION & AMAZON

The Scribner Trade Editon of THE WIND THROUGH THE KEYHOLE is being released April 24, It will not have any of the Jae Lee artwork.

Amazon will not be selling copies of our Limited Editions of THE WIND THROUGH THE KEYHOLE.

4. DELUXE LOTTERY

Between the orders for the Deluxe Edition and the postcards we have received from those having numbers between 801 and 1,250 of THE LITTLE SISTERS OF ELURIA all copies of the Deluxe Edition will be accounted for, so there will not be a 'second' postcard lottery as there was three years ago.

The Lottery will probably take place in April as, after we have shipped all current orders, we will be sending a letter to everyone who was eligible for a Deluxe Edition but didn't order one for a final chance to place their order.

5. PRINTED FLYER

Our usual full-color printed flyer was mailed about a month ago. Our previous flyer was 3 years ago and over 500 have been returned so far by the Post Office as 'Unable To Foreward'. Please notify us when you move so we can keep our files up to date.

Please do not call or email us for further details as we will just refer you to our web site and suggest you remain subscribed to our email newsletter.

Thank you.

Robert K. Wiener, President
Donald M. Grant, Publisher, Inc.