Posted: February 20, 2012, 09:00
_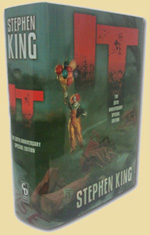 The contest in which I asked you all to tell the story of Marv - The Library Policeman and mascot for Lilja's Library has ended and I have gotten 55 stories to read. So, it will be a few days until I can tell you who won but when you wait nervously I'll have a lot of fun reading all your stories. Thanks to everyone who sent in a story and good luck to you all!

And, in the meantime, don't forget about the other two, much easier contest that's running on Lilja's Library at the moment.

Contest #1: Tell me why I should and I might give you a copy of the audio edition of The Stand. Enter here.

Contest #2: Like and Share on facebook and retwitter on Twitter and you might be the lucky one who gets to read Wind Through the Keyhole early. Enter here.