Posted: February 8, 2012, 15:37

_

Thinking about getting a copy of the UK limited edition of The Wind Through The Keyhole? Well, if you are, my suggestion is that you get it from PS Publishing and here is why:

* First off, there'll be a dust-jacket included (there will be no dust-jacket with copies of the book bought elsewhere; PS Publishing are having the jackets printed up and wrapped around their copies at their own expense).

In addition, the first 200 orders will: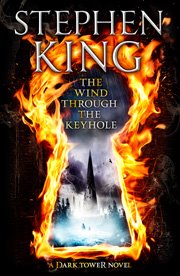 * be post-free anywhere in the world;

* receive a special numbered 20%-off voucher (please note that the 20% discount does not apply to postage charges) to be used against a future order of pre-2012 PS titles (and please also note that there will be no restriction on the number of books on that order so the 20% reduction will apply to as many books as you want); and

* qualify the customer to be included in a special prize draw wherein the first 10 names pulled out of the hat will receive—completely free of charge—a copy of PS's One For The Road artbook (written by Stephen, of course, and illustrated by James Hannah). The retail price of this super-limited book is £75.

PUBLICATION DATE: April 2012
EDITION: Slipcased Hardcover with a facsimile signature and a specially-printed dustjacket
PRICE: £99.99

PRINT RUN: 700 with deluxe binding, photographic endpapers and with author's facsimile signature.

Please note though that PS Publishing only has 400 copies (and the dust-jacket is not included in copies bought elsewhere) so don't wait to long if you want this one! Order here.