Posted: January 16, 2012, 16:56
_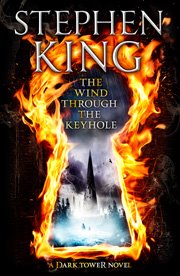 This just landed in my mailbox...

Could You Find Your Face on Stephen King's New Book?

To celebrate the publication of The Wind through the Keyhole, the hotly anticipated new episode in Stephen King's fantasy series The Dark Tower, we're inviting you to help make literary history; lucky entrants will have their faces featured on the back of the jacket artwork.

Using mosaic design technologies, thousands of readers' images will be incorporated in the illustration on the back cover of The Wind through the Keyhole.

One winner will also be selected at random to receive the entire STEPHEN KING backlist published by Hodder in the UK.

For your chance to be a part of this once-in-a-lifetime opportunity, all you have to do is upload your photo via this facebook app https://www.facebook.com/stephenkingbooks. We can't guarantee that everyone's photo will make it on – but we'll contact you when the jacket is ready so you can see if your face is featured, and if you've been lucky, you can share your pixels of fame with friends and family! The closing date for entries is 23rd January 2012. Terms and conditions apply, click here for more details.

The Wind through the Keyhole is published in April 2012.