Lilja's Library turns 15!
Posted: September 1, 2011, 00:00:05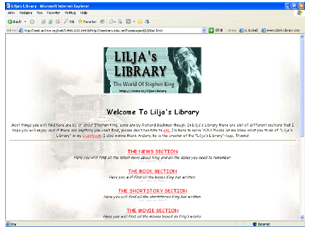 15 YEARS! That's how long Lilja's Library has been online. In 1996 (the photo to the right shows how it looked in 1997) I created the site and to start with it wasn't much to write home about but today it's one of the biggest Stephen King fan site's out there which I'm very proud and grateful for. And to celebrate this event I have (besides a new look thanks to my friend Anders Jakobson) put together a celebration contest and let me tell you, there are a lot of prizes in it for you.

The Grand Prize will be an item signed by none other than the #1 director of Stephen King movies Frank Darabont! Exactly what will be revealed later. But that's not all, there are a lot of other prizes. In fact, I don't think I have had this many prizes in any contest before.

To enter the contest you can go here but answer questions isn't the only way to win. If you're interested in promoting Lilja's Library extra chances of winning will be given to those who retweets posts by me on Twitter. For each retweets you'll get an extra chance to win. However, I know not all of you use Twitter so in order to give you all a chance to promote Lilja's Library I have decided to let everyone who promotes Lilja's Library in a good way (could be online, could be in real live, could be as a tattoo on your body and everything in between...) and tell me about it by sending a mail, photo, videotape or anything else that fits the occasion will get an extra entry for each promotion.

I will also draw two winners from all my follower on facebook and two from my followers on twitter so make sure you follow Lilja's Library!

So, get busy, join the celebration and enter the contest! Oh, and thanks again to Anders Jakobson for all his work on the site; Thanks!