Comic biography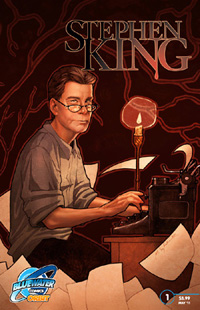 Posted: March 8, 2011, 22:39:47
Here is a pretty interesting biography of King. It's called Orbit: Stephen King and is a biography in comic format. Bellow is the press release, cover and a preview for you.

STEPHEN KING HELPS WEAVE HIS OWN TALE IN BLUEWATER'S BIOGRAPHY COMIC
He found our collective boogeymen in the shape of clowns, dogs, haunted hotels and cars. Author Stephen King, the best-selling master of horror who has terrified a generation with his nightmarish imagination, helps give voice to his own tale in a special edition of Bluewater Productions' latest biography comic title "Orbit."
According to Bluewater, King, himself, participated in recounting his incomparable career in a rare "behind-the scenes" glimpse into the author's private world.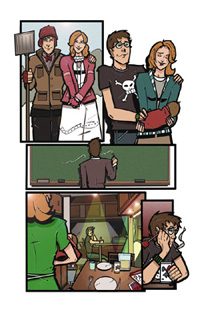 Co-author Michael Lent offers one such example: "One story we confirmed concerned a young King witnessing a friend's accident involving a train (long thought to be a source of his macabre inspirations). Until now, the story was largely apocryphal and wasn't mentioned in King's autobiography. It's a great feeling when you can resolve something once and for all."
"Orbit: Stephen King," scheduled for a May 2011 release, follows King's career from a struggling writer to prolific best-selling author. It includes insight on his legacy as a writer, his love of the Boston Red Sox, forays into film, drug and alcohol issues, and the accident that nearly cost him his life.
In writing about his near-death in 1999, the authors used King's own account along with police reports that differed from accounts given by some of the media, according to Lent.
""What really enlightened us were the similarities we found between Stephen King and Keith Richards of the Rolling Stones. Both came from dirt poor families. Both had talents that were shepherded by strong, supportive mothers. Both had absent fathers. Each practiced doggedly every day -- their talents weren't hobbies, but their salvation. It brought them fame and fortune, it sustained them during their darkest hours of drug addiction and it, literally, gave them both a road to recovery when their lives were nearly cut short in tragic accidents," added co-author Brian McCarthy.
The issue, penciled by Kent Hurlburt with a cover by Micha³ Szyksznian, will retail for $3.99 and be available through most online venues like Amazon.com as well as local comic book stores.
"King's success came from his ability to give voice and character depth to the everyman and put them into nightmarish situations, said Bluewater president Darren Davis. "He found a way to strike a chord that make the everyday seem eerie and the scary downright evil."
This isn't the first time Bluewater has taken on the biography of a well known author. In the past year, the Vancouver, WA-based publisher has produced titles on JK Rowling, Charlaine Harris, Stephenie Meyer and Anne Rice. In fact, a trade paperback containing all four author biographies titled "Female Force: Best Sellers" is scheduled for a July 2011 release.
"Orbit," according to Davis is a natural extension of the biography comic division established by Bluewater's "Female Force," "Fame," and "Political Power."
"Orbit" was launched in April 2011 with a focused skew towards a more male demographic. "When we weighed the possibilities of featuring personalities like King, Howard Stern, LeBron James, Gary Gygax and JRR Tolkien into our existing titles, the tone and tenor didn't match. Their enduring popularity and contributions to popular culture are worthy of coverage, but they needed a different voice in which to present the material. 'Orbit' fits that bill"