King in Sons of Anarchy
Posted: August 8, 2010, 01:14:26
Here is a photo of King in his guest role in the TV series Son of Anarchy. The episode with King will air on September 21st (King's birthday).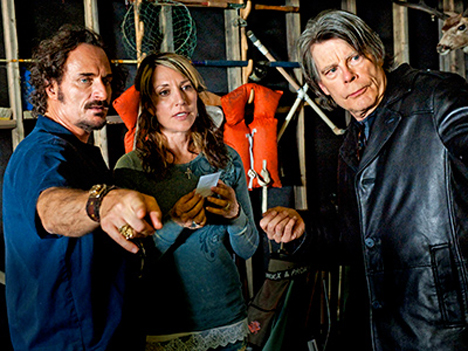 Entertainment Weekly reports...

Stephen King Guest-Stars on Sons of Anarchy
Being a fan of FX's Sons of Anarchy can have a huge payoff — especially if you're a literary titan. Knowing that Stephen King loved the biker series, creator and executive producer Kurt Sutter reached out to the horror-meister (and regular EW columnist), giving him carte blanche to write, direct, or act in an episode. King (right) — pictured with stars Kim Coates (left) and Katey Sagal, whose characters he helps in the Sept. 21 episode — obviously chose the guest role. And he had at least one demand. ''He wanted to ride a Harley,'' says Sutter, so they hooked the author up with a big red hog (inset). ''His character's last name is an homage to King's [real-life] alias, Richard Bachman.'' —Lynette Rice

Thanks to willowlove.