Posted: June 28, 2010, 14:23

_

Here's descriptions of the first four episodes of Haven: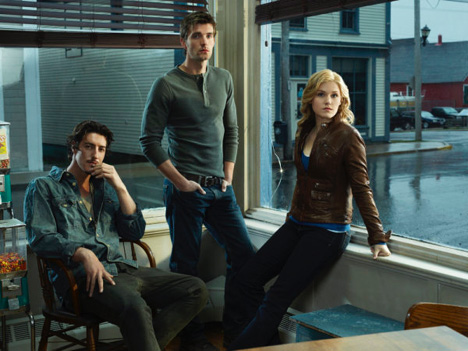 Episode 1.01 - Welcome to Haven
When FBI Agent Audrey Parker is called to Haven, Maine on a routine case, she finds her assignment has been killed in unexplainable fashion. When strange weather phenomena begin to strike the town – and Audrey – she begins to suspect that not everything is as it seems in Haven. As the weather events grow more destructive, Audrey discovers that someone in town might be more connected to the incidents than she could possibly imagine.

Episode 1.02 - Consumed
Audrey remains in Haven to follow up on a clue to her own orphan past – an old photo from the local newspaper, of the infamous "Colorado Kid" crime scene, reveals a woman who could be her mother. But Audrey stumbles upon another mysterious event in town, when food, fields, and even livestock around Haven all begin to die, and she joins with Nathan to investigate what the source of the epidemic could be – and what's really happening in this extraordinary place.

Episode 1.03 - Butterfly
While Audrey tries to settle in as a Haven local and as a new police officer in town, she and Nathan investigate the seemingly random destruction of a local bar. When other strange events begin to occur – even targeting Audrey herself – they must race to figure what the connection could be, and what or who might be making them happen.

Episode 1.04 - Ball and Chain
Audrey and Nathan investigate an upheaval at the local psychiatric hospital – where something happened to make the patients normal for a time, but sent their doctor into madness. As they track down the escaped patients, Audrey and Nathan discover that whatever caused the temporary reversal has begun to spill across all of Haven – making normal townspeople go dangerously insane.