Richard Chizmar talks Blockade Billy
Posted: April 13, 2010, 22:06:51
Here are Richard Chizmar's (owner of Cemetery Dance) thoughts on the Blockade Billy experience:

From CEMETERY DANCE Publisher Richard Chizmar…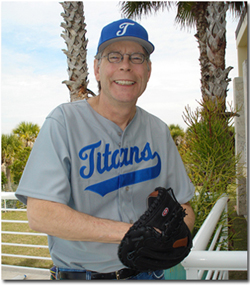 First and foremost, I want to say that working on Blockade Billy these past couple months has been one of the most rewarding – and definitely the most fun – experiences I've had in over two decades of publishing. As I noted in the press release, "Stephen King and I have corresponded about baseball and books for almost 20 years now…so to combine the two is a dream come true for me."
When Stephen King's agent, Chuck Verrill, emailed last year and told me that Steve thought BILLY would be a good fit for CEMETERY DANCE because he knew how much of a baseball fan I was, I knew this book was going to be something special. But I didn't know the half of it…
If you had told me then that word of our secret, little Stephen King baseball project would end up traveling all over the world, drawing attention from Entertainment Weekly, USA Today, Time Magazine, GQ, New York Magazine, ESPN, ABC, Sports Illustrated, Fangoria, PerezHilton.com, Gather.com, The Independent (UK), The Guardian (UK), Reuters, Examiner.com (New York), Publishers Weekly, Publishers Lunch, Shelf Awareness, The Washington Post, LA Times, Bloomberg, The San Francisco Chronicle, Pittsburgh Post-Gazette, The Miami Herald, The Boston Herald, Bangor Daily News, Baltimore Sun, Maryland Daily Record, Sacramento Bee, a newspaper in South Africa, and dozens of blogs and websites…I would have thought that you were crazy.
If you had told me we would end up selling all 10,000 first edition trade copies to individual readers (which is exactly what will happen in the next couple weeks), I would have sworn up and down that you were crazy.
If you had told me Stephen would graciously allow us to reprint another 10,000 copies of the trade edition and all of them would be swallowed up by just libraries (that's right, not a single retail account in the bunch), I would have known that you were crazy.
And, finally…if you had told me that retail demand – make that retail frenzy – for our secret, little Stephen King baseball project (which was always meant to have a very limited printing) would lead to Steve and CEMETERY DANCE working out a deal with Scribner to make Blockade Billy available to all his Constant Readers, I would have asked what planet you were living on... which, incidentally, is exactly what the head buyer at one of the country's biggest booksellers asked Cemetery Dance Marketing Director Brian Freeman when he explained to them that they would not be receiving any copies of our edition of the book!
But Blockade Billy really did take the world by storm, blowing away the expectations of everyone involved – and we're very proud of the role we've played in bringing Stephen King's first baseball story to readers. In just one week our World's First Edition/First Printing will begin shipping…and that's only the beginning. Who knows what kind of news our secret, little Stephen King baseball project is going to generate next.