Variant cover for issue #1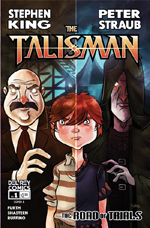 Posted: August 14, 2009, 00:57:31
Here is the variant cover for issue #1 of The Road of Trials. It's being released on November 18, 2009.

Del Rey Comics announced exclusively to
Newsarama
Thursday that they've secured Mike "Gabe" Krahulik, one-half of the team behind the very popular Penny Arcade webcomic, to provide a special variant cover to the publisher's October-debuting adaptation of the Stephen King-Peter Straub novel The Talisman, and Newsarama has a special exclusive preview of the cover.