Cover for issue #0 of The Talisman
Posted: June 16, 2009, 16:53:33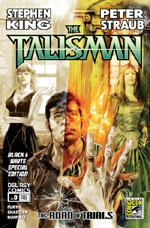 Here is a press release and the cover for issue 0 of The Talisman comic. The first issue is to be released on October 21 and a special issue at Comic-Con in July.



DEL REY ANNOUNCES MASSIMO CARNEVALE AS COVER ARTIST OF STEPHEN KING AND PETER STRAUB'S THE TALISMAN
Nei Ruffino tapped as colorist; Never-before-told prequel, 'Issue 0,' to be sold in comic shops this fall, with a special preview edition released at Comic-Con International in San Diego



NEW YORK, NY – June 16, 2009 – Del Rey, an imprint of Ballantine Books at the Random House Publishing Group, announced today the cover artist and colorist of The Talisman comics series by Stephen King and Peter Straub.
Cover art will be created by Italian artist Massimo Carnevale, best known in the U.S. for his cover art for Y: The Last Man under DC Comics' Vertigo imprint, and for his covers of the series Northlander. Born in Rome in 1967, Carnevale has done cover art for numerous Italian comics as well as created his own complete stories. He has received numerous awards for his work in both painting and cover design.

Coloring will be done by Nei Ruffino, who is currently working on Supergirl and Green Lantern for DC Comics, and Escape from Wonderland from Zenescope. She has worked on Return to Wonderland and Final Destination from Zenescope, Dragonlance Chronicles from Devil's Due, and Gunplay from Platinum Comics. Ruffino has also designed toy boxes and worked on online games for Hasbro's My Little Pony and Littlest Pet Shop properties.

The epic saga of The Talisman debuts with Issue 0, a never-before-told prequel to the story, to be published by Del Rey Comics this Fall. The Talisman novel, originally published in 1984, is the story of a young teen named Jack Sawyer, who can save his dying mother only by retrieving a magical talisman. To find it he must cross back and forth between our world and the frightening and dangerous landscape of its "twinner" counterpart. Issue 0 explores the separate lives of Jack's father—in our world, and the mysterious realm known as the Territories—and how evil scheming will forever change Jack's peaceful life. The series is being adapted by Robin Furth and illustrated by Tony Shasteen. The Talisman Issue 0 will be available in comic book stores everywhere on October 21, 2009.

A limited, black-and-white convention edition of Issue 0 will be available for free exclusively at this year's Comic-Con International in San Diego, taking place July 22-26. The special issue will be distributed by Del Rey at Booth #1129.

Both The Talisman and its sequel, Black House, are in print with Ballantine Books. Television rights to The Talisman are under development by Steven Spielberg and Kathleen Kennedy.

ABOUT THE AUTHORS:
Stephen King is the author of more than fifty books, all of them worldwide bestsellers. He is the recipient of the 2003 National Book Foundation Medal for Distinguished Contribution to American Letters.
Peter Straub is the author of 17 novels which have been translated into more than 20 languages. He has won numerous awards for his work, including the World Fantasy Award for Best Novel, for Koko.

ABOUT DEL REY:
Del Rey Books (http://www.delreybooks.com) was founded in 1977 as an imprint of Ballantine Books, a division of the Random House Publishing Group, under the guidance of the renowned Judy-Lynn del Rey and her husband, Lester del Rey. Del Rey publishes the best of modern fantasy, science fiction, and alternate history. No stranger to comics, Del Rey launched Del Rey Manga in 2004 in conjunction with Japanese publisher Kodansha, and quickly began to acquire original graphic novel projects as well. Current and upcoming projects include a four-color graphic novel developed with pop singer Avril Lavigne, Make 5 Wishes; the graphic novel In Odd We Trust, by Dean Koontz and Queenie Chan; the first-ever graphic novel set in the world of Terry Brooks' Shannara universe, Dark Wraith of Shannara; original manga starring Marvel characters in X-Men: Misfits and Wolverine: Prodigal Son; and a four-color original graphic novel set in the Outlander universe, scripted by author Diana Gabaldon herself.