Morality
Posted: June 1, 2009, 00:45:38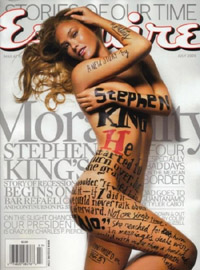 The Fire Wire: reports...



The new Stephen King novella entitled Morality is featured in the July 2009 issue of Esquire magazine. The magazine should be on newsstands this week and features the Israeli model, Bar Refaeli on the cover with a temporary tattoo of the story covering her body. A scan of the cover is below…happy reading!



Here is a description of the plot:



Chad, an aspiring writer who is teaching school until he lands a publishing contract, and his wife, Nora, who is working as a home nurse for a retired minister, are like most people these days struggling financially. Nora is approached by her employer with a proposition that could make their dream of a home in Vermont a reality. But will it be worth the moral consequences?