Lilja up for grabs...
Posted: April 20, 2009, 23:56:21
It looks like the cover for my book really appealed to people. Cemetery Dance has received several offers to buy the original artwork for private collections so they have now decided to put the front and (never-before-seen) back cover up for auction.

Here is all the info you need:

Lilja's Library: The World of Stephen King
2 Pieces of Original Color Artwork Up For Bidding NOW!
Stephen King and Glenn Chadbourne Fans Take Note! RARE Collectibles!
We received a lot of positive emails about Glenn Chadbourne's stunning cover artwork for
Lilja's Library: The World of Stephen King
, including several offers to buy the original artwork for private collections. We spoke with Glenn about these offers and he asked us to auction off the FRONT COVER and the never-before-seen BACK COVER artwork on his behalf. View these two beautiful full-color pieces below: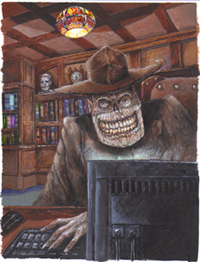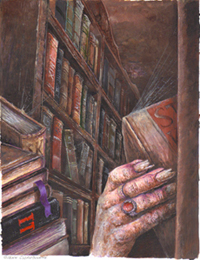 *** HOW WE'RE SELLING THESE:
We'll be taking offers on behalf of the artist, Glenn Chadbourne, and selling to the highest bidder for each piece. We will be processing the sale either via PayPal or Credit Card and shipping these copies for our customers via UPS for US addresses, so they will be packed well and insured for the amount paid. No checks or money orders can be accepted for this special offer. Customers outside the US will be shipped via USPS at their own risk.
*** HOW TO MAKE YOUR OFFER:
You may bid on the front OR the back cover OR both, but please be clear which one your offer is for.
Please email Mindy Jarusek at info@cemeterydance.com with your BEST OFFER as soon as possible if you're interested because this offer ends in just 72 hours. Serious bids only. The minimum bid for these is $199 per piece, but considering that full-color Glenn Chadbourne artwork often sells for up to $500, these would be a steal at that price, especially given the Stephen King subject matter!
Please put "LILJA'S LIBRARY Best Offer" in your subject line so these offers can be properly processed.
* The body of your email should include:
Your Name
Your Address
Your very best offer for the FRONT cover artwork
Your very best offer for the BACK cover artwork
Please send the final amount you are willing to offer for these copies. The deadline for this "best offer" is THIS WEDNESDAY, April 22, 2009 at 5 PM EST. The winner for each cover will be notified via email after the offers have been reviewed on Thursday. Your best offer is a binding agreement to purchase a copy at that price.
REMEMBER, if you make the best offer for one of these, you're getting the ORIGINAL artwork! No one else in the world will have what you have!
If you have any questions before you bid, please email Mindy and she'll help you out. As always, thanks for your continuing support!