The Girl Next Door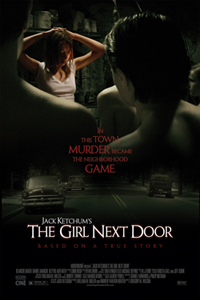 Posted: October 4, 2007, 22:45:29

As you might know King is a fan of the book The Girl Next Door by Jack Ketchum. Now the book has been turned into a movie (that will be out on DVD in December) and here is what King has to say about the movie:



"The first authentically shocking American film I've seen since Henry: Portrait of a Serial Killer over 20 years ago. If you are easily disturbed, you should not watch this movie. If, on the other hand, you are prepared for a long look into hell, suburban style, The Girl Next Door will not disappoint. This is the dark-side-of-the-moon version of Stand By Me."
-- Stephen King.



To celebrate this The Overlook Connection will include a free signed book plate by Jack Ketchum if you buy the book from them (this edition has a 3,000 word long introduction by King) and they will also sell signed copies of the DVD once it's available.