NEWS - UR
Posted: February 5, 2015, 08:16:35
During his talk in Florida (1/29/2015) King said that UR will be a revision of the ebook original.

If you want to check out the original version before The Bazaar of Bad Dreams is out you get get it here:

Kindle edition
Audio CD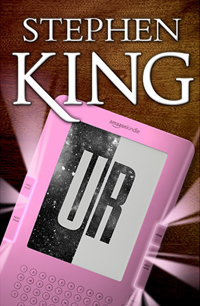 Posted: February 4, 2015, 16:22:55
In Florida (1/29/2015) King confirmed that UR will be included in The Bazaar of Bad Dreams.

Posted: February 22, 2010, 12:32:24
The UR contest is over and here are the five lucky winners and also the right answers:

Question 1: Who narrates UR?
Answer 1: Holter Graham

Question 2: Where could you buy UR when it was first released?
Answer 2: Amazon.com

Question 3: What device did you need to read UR when it was first released by Amazon?
Answer 3: A Kindle

Question 4: Has UR ever been published in a book or magazine?
Answer 4: No

Question 5: Is the running time for UR more or less than 3 hours?
Answer 5: Less, it's approximately 2 hours long

And the five winners are: David Spell, Larry Ouellette, Andrew Meeker, Raymond Muraida and Cyrus Simcoe. A copy of the audio version of UR will be on its way to you soon.

Posted: January 27, 2010, 08:49:17
Here is a site for the upcoming audio edition of UR where you can listen to an exerpt.


Posted: January 15, 2010, 00:03:55
Here is a first audio excerpt from UR.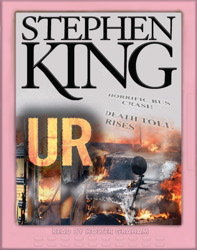 Posted: January 8, 2010, 00:51:57
On February 12 UR will be released on audio and the narrator is Holter Graham.
Posted: December 30, 2009, 19:52:21
Amazon has now made it possible to download a KINDLE software for PC. Therefore, it is not anymore compulsory to buy amazon's
kindle to download UR. It can now be bought online, and read on the computer.

Go here to get the software.

Thanks to herbertwest
Posted: July 9, 2009, 22:18:59
UR will be available as an audiobook on February 16, 2010. The reader has not yet been selected. The suggested retail price is $14.99 in CD format or $11.99 for the download edition which will be available July 2010.

Thanks to Bev Vincent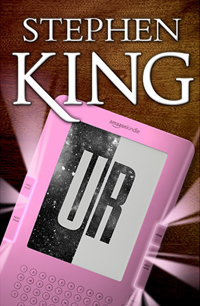 Posted: March 18, 2009, 10:32:59
Here is finally my review of Ur.
Posted: March 4, 2009, 23:47:35
Now people with an iPhone can read Stephen King's Ur as well. Read more here.

Thanks to Larry Fire
Posted: March 4, 2009, 14:07:04
Ur seems to be a success:


It's not the sensation of his first effort, but Stephen King's latest e-adventure is another best-seller.

King's agent, Ralph Vicinanza, said Tuesday that downloads of King's novella "UR," available only as an e-book and released to coincide with the launch of Amazon's upgraded Kindle reader, have reached "five figures" after barely three weeks on the market.

In 2000, in the early years of digital texts, King's novella "Riding the Bullet" was downloaded hundreds of thousands of times, overwhelming Amazon.com and other online sites.

Amazon.com has declined to offer any specific numbers for sales of the Kindle or for individual books, although publishers have said that popular titles sell in the thousands or better.

Vicinanza said in a telephone interview that Amazon would not be providing specific numbers until 60 days after the Feb. 12 release, but added: "We've been told that they're in the five figures already.

"We're excited. They're happy, we're happy and from the initial information that we're getting it seems to be a success."

As of Tuesday afternoon, "UR" was No. 18 on Amazon's list of Kindle best-sellers.

Vicinanza had approached King with the idea of writing a story for release as an e-book as a way to "create some excitement" in electronic publishing at a time when the book industry is going through tough times.

The New York-based agent recommended the strategy even though the Kindle and competing devices account for no more than 1 percent of overall book sales. "UR" eventually will be made available in print, he said.

The Kindle 2, a slimmed-down model with upgraded components and storage capacity, went on sale Feb. 9 for $359. The gadget downloads books, newspaper stories and blog posts over a wireless network.

"UR," available as a download for $2.99, is about a college English instructor whose pink Kindle allows him to access new books by famous dead authors as well as newspapers that tell of a future event that he is compelled to try to forestall.

While some readers have likened the book to an infomercial for Amazon's pricey device, Vicinanza says any King fan recognizes how often cars and other products appear in his books.

"There isn't enough money out there for Stephen King to do product placement, for sure," he said.

King began writing the story Jan. 18, the agent had it edited and sent to Amazon on Feb. 4, and the edited proofs were in the hands of King and his agent — sent, in fact, to their Kindles — two days later.

King sees the Kindle as a delivery system that matters less than the story it delivers. In his blog on the Entertainment Weekly Web site http://www.ew.com. the author opined a year ago that Kindles will not replace books, which have a permanence that accentuates the importance of the ideas and stories they contain.

But they can, he wrote, enrich a reader's life.

"For a while I was very aware that I was looking at a screen and bopping a button instead of turning pages. Then the story simply swallowed me, as the good ones always do," King wrote. "It became about the message instead of the medium, and that's the way it's supposed to be."

Thanks to Bev Vincent.
Posted: February 12, 2009, 21:20:16
Amazon has decided to release Ur ahead of schedule. Kindle users can now purchase it for immediate download to their Kindle devices.

Get your copy here.
Posted: February 10, 2009, 22:27:13
It was confirmed today that Kindle will have an exclusive on Ur for its users first but will then release it (anywhere from 1-3 months after) as a download to the general public.
Posted: February 10, 2009, 21:08:13
Bev Vincent reported that An Amazon official estimates that Ur would run about 100 traditional print pages, calling it a more of a novella than a story.
Posted: February 10, 2009, 16:26:48
Here is a clip from yesterday's pressconference where King reads from Ur and here is a short interview about it.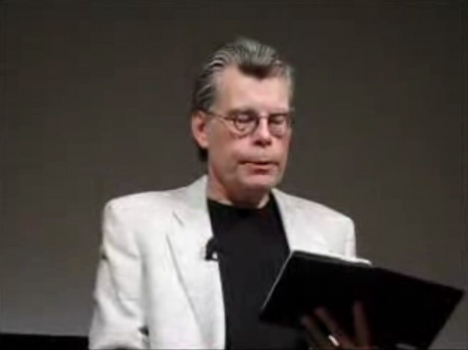 Thanks to Bev Vincent
Posted: February 9, 2009, 20:59:08
Here is a short Q&A with King about Ur and Kindle.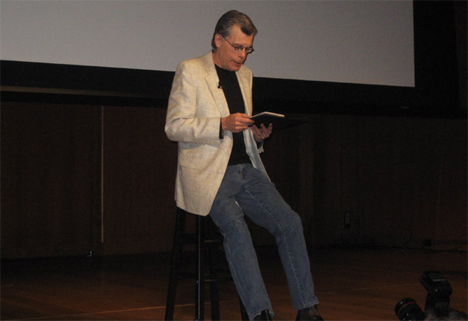 Posted: February 9, 2009, 20:31:37
It is now confirmed that there will be a downloadable version of Ur released. It will be available from the Kindle site. No date has been revealed yet though.

According to Amazon.com the Kindle version will be available on February 24th but you can pre-order it here.

Here is a description of the plot:


Following a nasty break-up, lovelorn college English instructor Wesley Smith can't seem to get his ex-girlfriend's parting shot out of his head: "Why can't you just read off the computer like the rest of us?" Egged on by her question and piqued by a student's suggestion, Wesley places an order for a Kindle. The device that arrives in a box stamped with the smile logo--via one-day delivery that he hadn't requested--unlocks a literary world that even the most avid of book lovers could never imagine. But once the door is open, there are those things that one hopes we'll never read or live through. Get it only on Kindle.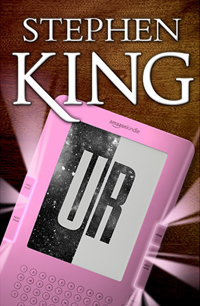 Posted: February 9, 2009, 15:10:47
New novella called Ur released later this month:


Stephen announced today that he is releasing a novella, "Ur," which will only be available on Kindle. Ur is available for pre-order beginning today and will be released later this month. For Kindle customers who pre-order, King's new novella will download automatically when it becomes available.

Read more here