NEWS - BLAZE
Posted: December 23, 2008, 15:43:21
It looks like there will be a readin of Blaze in the UK:

BBC Radio 7 (uk) is doing a six part series of Stephen King's Blaze. "George is dead - but he's got a con job for Blaze, who can still hear him. William Hope reads Stephen King's 'lost' thriller."
This series starts on Monday the 29th of December 2008 at 9:30am (GMT). Other times are listed at the site below.
The series carries on daily at the same time.
Blaze Program Info Page
If you would like to listen to this series, here is the link to the
BBC iplayer
worldwide)
Or you could watch Via Digital Television (in the UK):
All the BBC's national radio services are available via digital satellite television. Satellite services are available from Sky or Freesat. The Sky EPG No for BBC Radio 7 is 0131 and for Freesat it is 708.
All BBC national digital radio services are available on Freeview digital television through an aerial. Freeview EPG No. for BBC Radio 7 is 708.
And in some areas via digital cable television. Virgin TV EPG No. for BBC Radio 7 is 910.
http://www.bbc.co.uk/radio7/help/howtolisten/
Thanks to Bev Vincent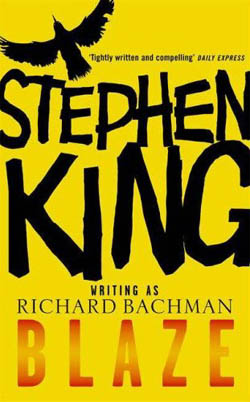 Posted: November 13, 2007, 08:43:00
Yesterday I showed you the US paperback edition of Blaze and today it's time for the UK edition.

Thanks to Peter Hunt
Posted: November 12, 2007, 09:19:59
Here is the cover for the paperback edition of Blaze. It's released in January and you can pre-order your copy here.
Posted: June 18, 2007, 00:10:08
OK, all 32 winners has been drawn but before I reveal their names I want to give you all the right answers:

Question: Was Misery supposed to have been a Bachman book if it hadn't been revealed that King was Bachman?
Answer: Yes

Question: At the end of Blaze there is an excerpt called Memory. What book is that from?
Answer: Duma Key

Question: Where did King first reveal that the new Bachman book would be called Blaze?
Answer: At a press conference in London in November 2006 when he was asked for the title by Lilja.

Question: What did Bachman die of and when?
Answer: He got "cancer of the pseudonym" in 1985.

Question: In what book was Bachman mentioned as King's inspiration for writing the book?
Answer: The Dark Half.

Question: How many books has Bachman released, including Blaze?
Answer: Seven books: Rage, The Long Walk, Road Work, The Running Man, Thinner, The Regulators, Blaze.

Question: What is the name of Bachman's wife?
Answer: Claudia Inez Bachman or Claudia Inez Eschelman

And here are the winners:

Monday's winners:

UK hardbacks goes to Larry Fire and Sharon Haas from the US

UK audio goes to Marcus Caesar from Sweden and Jérémy Guerineau from France

Tuseday's winners:

UK hardbacks goes to David Carroll from Australia and Carlos Segnini from Venezuela

UK audio goes to Joshua Fowler from the US and Jaime Harrison from the UK

Wednesday's winners:

UK hardbacks goes to Louis Sytsma from Canada and Han Cuijpers from the Netherlands

UK audio goes to Tim Norman and Martin Waite from the US

Thursday's winners:

US audio goes to Tracey Byram from the US, Brendon Boyce from Australia, Joe Brailsford from the US, Karen Hockenbewrry from the US and Rik Hosken from the UK

Friday's winners:

US hardbacks goes to Vic Thompson from the UK, Lisa Wilson from the US, Marcus Eriksson from Sweden, Keijo Nima from Finland and Pete Willis from Australia

Saturday's winners:

US audio goes to Alex B. Willis from the US, Cyrus Simcoe from the US, Joshua Moehling from the US, Aaron Najera from the US and John Suit from the US

Sunday's winners:

US hardbacks goes to Brian O'Hara from the UK, Rein Heek from Poland, John Arvid from Norway, Sue Carroll from the US and Beth Green from the US
Posted: June 10, 2007, 23:59:30
Welcome to Lilja's Library Blaze Week. As you all know Blaze is released this week and I think that is something that needs to be celebrated. So this week I'll have the following prepared for you all: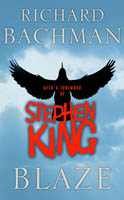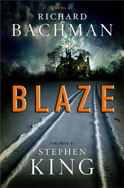 Monday:
My review of Blaze

Monday – Wednesday:
Contest with UK editions of the book as prizes.

Wednesday:
Interview with King's UK editor Philippa Pride

Thursday – Sunday:
Contest with US editions of the book as prizes.

Enjoy!
Lilja

Posted: June 7, 2007, 22:28:02
With five day's left until Blaze is released there is now an official site for the book.


Posted: May 24, 2007, 00:19:31
Here is a very short review of Blaze from the periodical "Booklist". Read at your own risk...

Blaze—Clayton Blaisdell Jr.—is a big dummy, very big: six-seven, 270. But not exactly very dumb. He was a smart little boy until his drunken father threw him downstairs three times in a row. He relearned to read a bit, mostly comic books, but was thereafter an otherwise learning-challenged ward of the state with a horrendous dent in his forehead. Now a mid-twenties adult, he has just lost his bosom buddy and partner in petty cons, George, who still speaks to him somehow, especially about the big score, the one to retire on. Blaze realizes that George isn't really haunting him; in fact, Blaze possesses an excellent, though highly selective, memory. In honor of George, he decides to do the big one, the kidnapping of a wealthy couple's baby. He succeeds, albeit imperfectly enough that the state cops and FBI know whodunit within a day, and he surprises himself by bonding with the infant, which for readers makes the hunt for Blaze an Alfred Hitchcock–like exercise in moral ambivalence. It's impossible not to root for Blaze, especially since Bachman flashes back copiously and with maximal sympathy to the damaged man's past. Stephen King, who "buried" Bachman in 1985, here revamps a 1973 manuscript by his alter ego that he says is something of an homage to James T. Farrell, Jim Thompson, and Steinbeck's Of Mice and Men. Powerful and moving, it's a worthy tribute, especially to Steinbeck.

Thanks to Rick Urban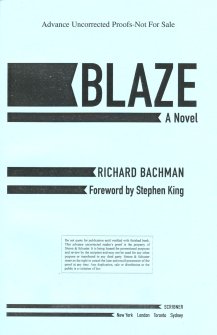 Posted: May 4, 2007, 21:48:44
Here is a scan of Scribner's ARC of Blaze.

It also contains the story Memory that is a preview for the upcoming Duma Key.
Posted: May 3, 2007, 11:04:30
Here are King's forward to Blaze.

Thanks to Paul Poroshin
Posted: April 16, 2007, 09:01:37
Here is Richard Bachman's author photo from Blaze.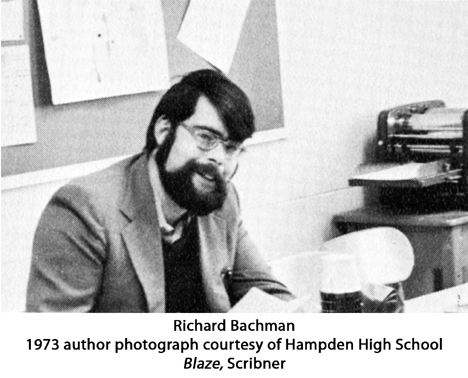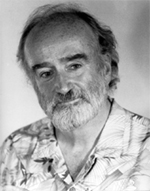 Posted: April 13, 2007, 23:02:59
Today both Scribner and Hodder & Stoughton confirmed that the narrator for the audio version of Blaze is Ron McLarty. This is very good news if you ask me.
Posted: April 11, 2007, 22:26:00
This was sent to me from Scribner today...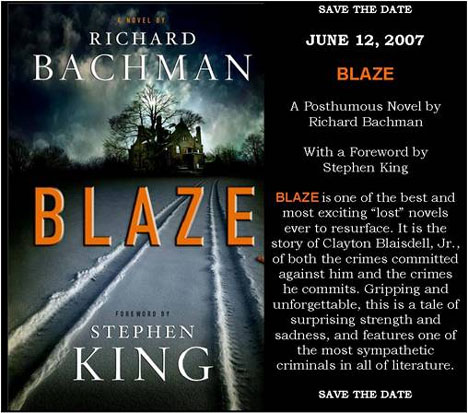 Posted: March 8, 2007, 16:32:40
Here is another description of Blaze. This one is from Cemetery Dance:


"Blaze is the story of a giant, mentally challenged man who decides to kidnap a baby and hold it for a $1 million ransom. The novel flips back and forth between the current story of Blaze's kidnapping and flight from the law to stories of his abusive past. There's another character named George, who is Blaze's best friend; it's George who actually convinces Blaze to kidnap the baby. The only problem is, George may or may not be dead, and thus be a psychological manifestation ... or perhaps a ghost."

Thanks to Neil Jarvis
Posted: March 6, 2007, 18:23:01
Here is a description of Blaze from Amazon/UK:


"At 6'7"and just under 300 lbs, Clay Blaisdell is one big mother, but his capers were just small-time until he met George Rackley. George introduced him to a hundred cons and one big idea: kidnapping the child of rich parents. The Gerards are filthy rich, and the last twig on the family tree could be worth millions. There's only one problem: by the time the deal goes down, the brains of the partnership is dead. Or is he? Now Blaze is running into the teeth of a howling storm and the cops are closing in. He's got a baby as a hostage, and the crime of the century just turned into a race against time in the white hell of the Maine woods."

Thanks to Bev Vincent
Posted: March 5, 2007, 23:17:36
Now it's time to pre-order Blaze. You can do it here:

US hardback
US audio
UK hardback
UK audio
Posted: February 23, 2007, 19:43:36
According to Scribner Blaze by Bachman will have a Foreword by Stephen King and be 256 pages long.
Posted: February 20, 2007, 19:14:29
Hodder & Stoughton has announced that they, like Scribner, will be publishing Blaze, on June 12, 2007.

Posted: February 19, 2007, 14:46:42
Scribner has announced that they will be publishing the first-written but last-recovered Richard Bachman novel titled Blaze, on June 12, 2007.

Thanks to Anders Jakobson
Posted: December 19, 2006, 22:14:18
King gives ut the first two chapters from Blaze.

Blaze excerpt now available
Dear Constant Readers,
I have found a novel by the late Richard Bachman written in 1972/73, that I thought was lost. I found it—or rather, Ms. Mod found it—and I am hoping to publish it in 2007, with royalties going to The Haven Foundation. To whet your appetite,
here
are the first two chapters.
Steve
Posted: November 28, 2006, 20:17:37
Here is the latest news about Blaze from King's assistant:


Many of you have been asking for more information about publication of Blaze following Steve's mention of it on his recent Lisey's Story book tour. This is another Bachman novel which he recently rediscovered. The original manuscript of Blaze was 173 pages long and was written in 1973. He has rewritten the first 100 pages. A lot of it needed editing to make it more timely since the 1973 references no longer worked. He's hoping to get it done by the end of the year. No publication deal has been signed, but he's sure there will be one.

Posted: November 8, 2006, 10:14:07
During the reading at Battersea Park King gave the audience a real surprice. He got a question about if he'll ever wrier under a pen name again and answered by saying that there are one more Bachman book that he found in the basement. He didn't say anything about a release date but it's suposedley written back in 1973.