NEWS - THE RUNNING MAN 2
Posted: November 18, 2014, 00:37:03
Would you like a sequel to The Running Man? Well, Arnold Schwarzenegger do. This is what he said about it recently.


People loved the movie. I loved the idea, It is like the Hunger Games, it's that kind of idea. I think that now, if someone writes it (a Running Man sequel) really well, it can be an extraordinary movie. I hope that no one decides to do that movie without me. I would really love to pick it up and continue on where we left off and be the Running Man.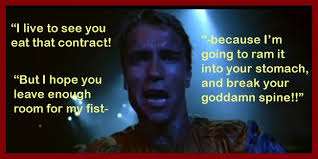 Thanks to Ari.
Posted: May 27, 2003, 16:02:42
'StraightShooter' has this piece on the sequel which not many were clamoring for: "Basically some of Rodmans sponsors were shown the second draft over February. Karen Craig wrote the script from memory - and its pretty good. Pretty much action-focused, but lots of black humor littered throughout. In this one, a star athlete named Carter Riley is forced to do time on the killer game show when he's wrongly accused of murdering a fellow team mate. There's a really awesome death scene where a fellow contestant gets his just desserts on the show co-host by using her head to fill a mesh net - very neat. Arnold's character, Ben Richards, appears in a scene towards the middle of the film. I think they'll be hard-pressed getting Arnold to do the cameo, but hey you never know. I can't imagine anyone else doing the part, and I doubt they'll work around it because the appearance is integral to the lead characters ultimate victory in that "shadow aid" kind of way. The film is supposed to be shooting in Canada mid-year sometime, no idea of director or other stars. I do know though that they're hoping to put it out theatrically".

Thanks to Dark Horizons.
Posted: April 17, 2003, 16:00:13
Here are a bit more info about the plot of The Running Man 2:


Involtra Sports Magazine says basketballer Dennis Rodman is in talks to star in a sequel to the 1987 Schwarzenegger film The Running Man. In the movie, Rodman would play Carter Riley, a star athlete, who when wrongly charged of murdering a fellow teammate, is sent to a game show where the prize is death. Production is set to begin in Vancouver in August with a fourth quarter theatrical release slated next year.

Posted: April 16, 2003, 15:59:23
The Z Review reports that Basketballer Dennis Rodman is in talks to star in a sequel to the 1987 Schwarzenegger film The Running Man with production to begin in Vancouver in August.