NEWS - NEW YORK TIMES AT BARGAIN RATES
Posted: August 12, 2021, 11:42:09
Dread Central reports that as part of a new overall deal with CBS Studios, Alex Kurtzman will spearhead a series adaptation of King's short story The New York Times at Special Bargain Rates.

Last time we heard something about this one was 5 years ago when the people behind Haven was supposed to do it. Let's see if something happens now…
Posted: August 29, 2016, 08:59:38
Looks like there will be some time before we see Grand Central (based on The New York Times at a Special Bargain Rates according to this post on twitter.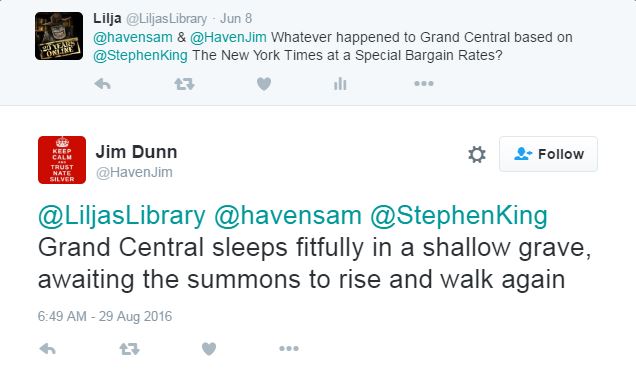 Posted: December 12, 2013, 08:20:39
The New York Times At Special Bargain Rates becomes Grand Central for ABC.


With both Haven and Under The Dome still successful in the States, Stephen King, once lord of all horror movies, is rather hot property on television right now. ABC has just announced another TV series based on his work.

The newly announced Grand Central will be based on the short story The New York Times At Special Bargain Rates, which was published in The Magazine of Fantasy & Science Fiction in 2008.

The story concerns a woman who receives a phone call from her husband who died in a plane crash two days previously. He warns her of impending tragedy and saves her life. It's not yet clear how the show, which will go straight to series, will spin that into a full show, but the synopsis calls it "a character-driven procedural with a supernatural twist".

Grand Central will broadcast in the US in the summer of 2014. Shawn Piller, Lloyd Segan and Scott Shepherd, who are all producers on Haven, will produce.

Posted: July 13, 2013, 22:35:55
A new TV series based on a King story is in the works. This time it's ABC and the story is New York Times at Bargain Rates. Sam Ernst, one of the creators of Haven posted this on Twitter.



Thanks to Herbert West