NEWS - DOLAN'S CADILLAC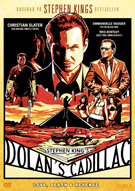 Posted: July 2, 2009, 01:40:58
Dolan's Cadillac has had its world premier in Sweden today and I have seen it. Check out my thoughts about it here.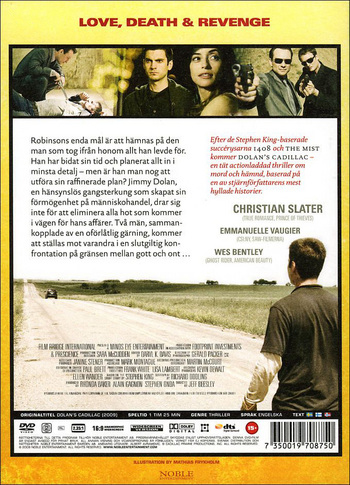 Posted: June 30, 2009, 11:36:36
Here is the back cover for the Swedish DVD release of Dolan's Cadillac. It doesn't look like there are any bonus materials on the DVD.
Posted: June 30, 2009, 07:24:13
This little note indicates that Dolan's Cadillac will premier in December in the US.


Emmanuelle Vaugier recently finished shooting the psychological thriller Dolan's Cadillac, a film adaptation of Stephen King's short story of the same name, with Christian Slater. It is due out in December.

Thanks to Bev Vincent
Posted: June 10, 2009, 19:09:13
As I have said earlier Dolan's Cadillac will get it's world premier on DVD in Sweden on July 1st and now you can check out the official Swedish website.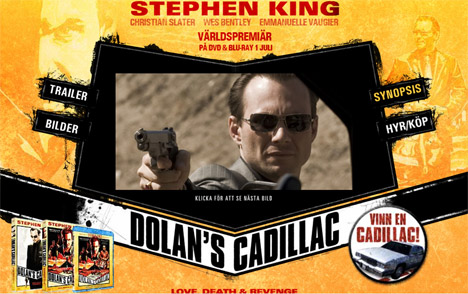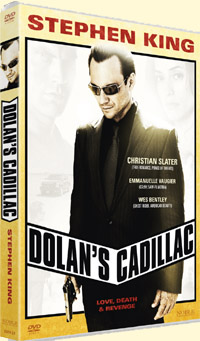 Posted: June 5, 2009, 00:58:31
Here is a new DVD cover (Swedish) and trailer for Dolan's Cadillac.

Here is the trailer.
Posted: May 23, 2009, 15:30:35
There has been many that thought the trailer for Dolan's Cadillac was far to long and revealed to much. Well, the explanation can be found in this message from herbertwest:


Film Bridge International told me that :

"this was an earlier version of a promo used as a marketing tool for distributors who had already bought the film. [...]Also, you may have seen, the promo is too long and gives a way too much of the film."

Thanks to herbertwest
Posted: May 19, 2009, 19:59:46
Here is finally a trailer for Dolan's Cadillac


Thanks to Larry Fire
Posted: May 4, 2009, 12:01:23
Here is a new picture from Dolan's Cadillac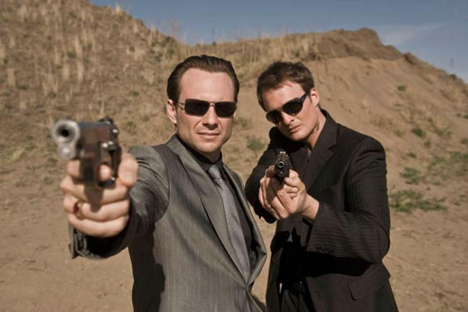 Thanks to herbertwest
Posted: November 9, 2008, 22:51:15
Shocktillyoudrop.com has some previews for Dolan's Cadillac. Read more here.



Posted: November 4, 2008, 22:28:57
For the first time, here are some photos from the movie version of Dolan's Cadillac. The are from the set of the movie and this is the first time they are made public.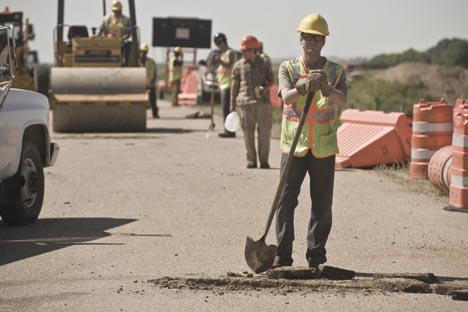 Wes Bentley as Robinson
Director Jeff Beesley
Posted: July 1, 2008, 07:24:55
Dolan's Cadillac hits Las Vegas:


It's taken more than a decade to get its motor running, but "Dolan's Cadillac" has finally hit the streets of Las Vegas.

The big-screen Stephen King adaptation -- about a teacher (Wes Bentley) obsessed with avenging his wife's murder at the hands of the title mobster (Christian Slater) -- is scheduled to wrap a three-day shoot Tuesday at locations ranging from the Strip to the Fremont Street Experience to the desert.

The tale (featured in King's 1993 "Nightmares and Dreamscapes") takes place in Las Vegas, but most of the shoot took place far north of Glitter City, in the Canadian province of Saskatchewan.

Thanks to Bev Vincent
Posted: June 27, 2008, 00:13:58
More news about Dolan's Cadillac:


Director dishes on Dolan's Cadillac

Christian Slater, Wes Bentley and Jeff Beesley all have something in common. All of them have however, had a hand in filming the movie Dolan's Cadillac in recent weeks. The movie, which has been filmed in Moose Jaw, Las Vegas and other areas of southern Saskatchewan is just finishing filming near Bethune.

Moose Jaw's Jeff Beesley is directing the film. He says it's been an honour to work with such a talented cast and crew including Wes Bentley and Christian Slater, who play the lead roles. "He (Christian Slater) came in for the first 12 days of production and you know there's a reason he Christian Slater, he's fantastic. There was a long history to this project, a lot of actors wanted to play his part Sylvester Stallone, Arnold Schwarzenegger, Dennis Hopper and none of them for one reason or another could do it. So to actually see it happen and see someone like Slater do it I think audiences are really going to be satisfied with what he does".

We caught up with Beesley during filming north of Bethune yesterday. He says while most of his colleagues have moved to places they consider "greener pastures" ... he says he's really blessed to be able to stay in Moose Jaw, make films and be with friends and family. "It's my hometown and the place I still live and I have long said how great it is for the economy and for the fabric of the community to shoot films in Moose Jaw. Everyone welcomed us with open arms... and I mean the Montreal crew that came and the producers and everyone from all over the world were blown away with the locations we got in Moose Jaw".

Beesley admits it can be a challenge filming a movie in Saskatchewan that's supposed to be set in Las Vegas, Nevada. "We have to be very strategic about how we do it and we have to work very closely with the art department and the director of photography to make sure it's shot appropriately. There's going to be some CGI in the movie obviously sometimes when we're getting into areas that are too flat we'll be putting in some mountains and there is 4 days of shooting in Las Vegas so we will be getting a lot of authentic locations spun throughout".

Dolan's Cadillac is based on a Stephen King short story. It's about a man who seeks to avenge his wife's murder We asked Wes Bentley, who plays the lead role what he thinks about working with Beesley. "Jeff's terrible, I hate working with him. He makes everyday so hard", Bentley laughed. "No, Jeff's a great guy, he's a hidden talent. He took a script that could have been a typical generic revenge movie but Jeff is not a generic man. He's got a beautiful mind and he made this a real joy to work on as well".

In the film, Wes Bentley plays a man looking to avenge his wife's murder. That means killing a well-protected mob boss played by Christian Slater. No word when Dolan's Cadillac will be ready for theatrical release, but the hope is that it might appear at a film festival as early as next spring.

Posted: June 8, 2008, 14:44:11
Here are more info about the filming of Dolan's Cadillac.

Thanks to Bev Vincent
Posted: June 2, 2008, 00:24:47
Dolan's Cadillac has begun shooting and news reports are pouring in. Here are some:

Worldscreen.com

Chud

Thanks to Rocky Wood and Mike Cahill
Posted: June 1, 2008, 00:29:23
Shooting has begun on Dolan's Cadillac:


Shooting began earlier this week on Dolan's Cadillac in Regina and Moose Jaw, Canada. Based on the story by Stephen King, the cast includes Christian Slater, Wes Bentley and Emmanuelle Vaugier.

Contrary to an initial report that Erik Canuel at the wheel of this psychological thriller, director Jeff Beesley is now directing from a script by Richard Dooling.

"The audience is in for a treat," says executive producer Kevin DeWalt. "We've assembled an incredibly talented cast and a highly skilled crew and are ready to deliver a quality film that will exceed audience expectations." Ellen Wander, executive producer, adds, "The transition from page to screen will not disappoint. This story is one of vengeance, Stephen King style."

Here's an official synopsis provided to Shock by production entity Minds Eye Entertainment: Tom Robinson (Wes Bentley) is a peaceful, law-abiding schoolteacher until his wife Elizabeth (Emmanuelle Vaugier) accidentally witnesses a murder. Jimmy Dolan (Christian Slater), Las Vegas¹ most ruthless and untouchable mob boss, never leaves behind a witness. Haunted by the ghost of his wife, Robinson transforms himself into an obsessed vengeance machine, pushing himself beyond the breaking point of mind, body and spirit. When the two men finally meet deep in the heart of the desert, Dolan's Cadillac climaxes with an amazing test of wills the ultimate duel. The Cadillac, which has been Dolan's armor, may just as easily become his tomb.

Thanks to Bev Vincent
Posted: April 25, 2008, 23:45:43
Seams Dolan's Cadillac is back on track:


Christian Slater drives 'Cadillac'
Stephen King's short story provides the source material
By Carolyn Giardina

April 24, 2008

Christian Slater and Wes Bentley are set to headline and Emmanuelle Vaugier will play the female lead in an adaptation of Stephen King's short story "Dolan's Cadillac," Film Bridge International said Thursday.

"Dolan's Cadillac" is a thriller about a man (Bentley), who plots to avenge the murder of his wife (Vaugier) by notorious and untouchable Las Vegas mob boss Jimmy Dolan (Slater).

Erik Canuel is directing "Dolan's Cadillac" from an adaptation written by Richard Dooling. Production is scheduled to begin May 14.

Film Bridge is overseeing the financing and handling worldwide distribution.

Slater ("Bobby") is repped by CAA. Bentley ("Ghost Rider") is repped by WMA and Untitled Entertainment. Vaugier ("Saw IV") is repped by APA and Evolution Entertainment.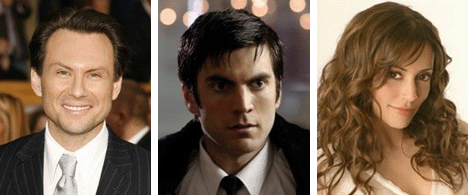 Thanks to Larry Fire and Rocky Wood
Posted: February 15, 2007, 08:43:29
OK, I have some very interesting news for you about the upcoming Dolan's Cadillac adaptation. It's correct that Dennis Hopper is indeed interested in being in the movie but it'll be a movie that is somewhat different from King's story. The screenplay is however written with King's blessing.

As in King's story, Dolan is a gangster in Las Vegas but his main business now is human trafficking. The wife isn't called Francey (as reported earlier). She's named Elizabeth like in the short story. Also Robinson doesn't have a first name in the script. He is just referred to as Robinson; a grade school teacher, just like in the story, who must have his revenge upon a well-protected, ruthless gangster in an armored cadillac.

More news to come about this so make sure your on the update list.
Posted: February 12, 2007, 14:17:16
Production Weekly reports that Dolan's Cadillac is on again:


Dennis Hopper is in negotiations to star in "Dolan's Cadillac," based on one of Stephen King's most suspenseful short stories. Production is scheduled to begin in April, with Hopper playing James Dolan, Las Vegas' most ruthless and untouchable mob boss. A dark and riveting revenge tale about Las Vegas middle school science teacher Tom Robinson whose beloved wife Francey witnesses an execution in the desert and is then targeted for death by the mobster who committed it, notorious Vegas crimelord Jimmy Dolan. Dolan's vast wealth stems from his control of The Mandarin casino. Dolan succeeds in having Francey killed before she can testify against him. Faced with resistance from law enforcement, Tom sets out to avenge his wife's death on his own.

Thanks to Bev Vincent
Posted: September 8, 2005, 20:58:00
According to Fangoria King has taken back the movie rights to Dolan's Cadillac:


September 7: Director talks King's unmade DOLAN'S CADILLAC

Four years ago, Stephen King gave up-and-coming writer/director Stacy Title the rights to make the movie out of DOLAN'S CADILLAC, one of the tales in the anthology NIGHTMARES AND DREAMSCAPES. Six months ago, after a lengthy and ultimately fruitless development period, King took the rights back.

"He was incredible and very generous about the whole thing," says Title ... "He loved the script when he first read it and then, all of a sudden, he changed his mind. I did a lot of drafts for free, so it was disappointing."

While Title had the rights, with the now-defunct Franchise Pictures and producers Tom Cruise and Paula Wagner also attached to the project, a number of high-profile actors drifted in and out of the adaptation of King's story, in which a man seeks vengeance against the Las Vegas mobster who has murdered his wife. "First, Sylvester Stallone was supposed to do it," Title recalls. "Then Cuba Gooding Jr., then Val Kilmer, then Freddie Prinze Jr. and then Gabriel Byrne. A lot of people were interested in doing this picture."

Title does not hold a grudge against the horror author. "He waited a long time for this to happen," she says. "It wasn't his fault. I thanked him for the rights when I had them. All I can say is that I tried."

Thanks to Rocky Wood.
Posted: April 19, 2004, 20:57:00
According to USA Today Dolan's Cadillac starts shooting in June.

Thanks to Bev Vincent.
Posted: April 10, 2004, 20:55:00
There have been some changes in the casting of Dolan's Cadillac. Kevin Bacon and Sylvester Stallone are out and Gabriel Byrne will play Dolan and Freddie Prinze JR plays Robinson. Freddie Prinze JR confirmed this at the premiere of Scooby Doo 2 in London.

Thanks to endymion.
Posted: November 19, 2001, 20:53:00
The Seattle Times: Arts & Entertainment: Seen, heard, said Seattle Times staff

There's some intrigue involving the filming of Stephen King's "Dolan's Cadillac," the tale of a mild-mannered teacher who seeks revenge after his wife, an eyewitness to a mob murder, is killed by the mobster.

The New York Daily New says Sly Stallone, once attached to it, is out and speculates the production company that has the rights Tom Cruise and Paula Wagner's wanted him to play the mobster and Kevin Bacon to be the teacher.

Other explanations include: 1. Sly asked for more money and 2. Sly's rep thinks the project is kaput.

Thanks to Bev Vincent.
Posted: November 9, 2001, 20:51:00
Las Vegas Review Journal reports that Dolan's Cadillac is expected to start filming around the first next year. Here is what they say:


And currently scouting around town: "Dolan's Cadillac," based on a Stephen King tale, about a science teacher who exacts complex revenge when a Las Vegas mobster murders his wife, who witnessed a hit. Sylvester Stallone, who starred as a Vegas-based hit man in the "Get Carter" remake, plays the mobster. Cameras are expected to roll around the first of the year with Stacy Title ("The Last Supper") directing.

Posted: July 12, 2001, 20:49:00
USA Today reports that Dolan's Cadillac might be filmed in Mexico. Here is what they said:


Other U.S. movies in the works in Mexico include Vampires: Los Muertos, starring rocker Jon Bon Jovi, and possibly a Tom Cruise production of the Stephen King short story Dolan's Cadillac, which is to star Kevin Bacon and Sylvester Stallone.

The movies' ascending star here is a result of dramatic change in the way the government does business. It streamlined permit applications for filmmakers who want to work in Mexico and overhauled union rules and tax laws.

Posted: May 1, 2001, 20:48:00
According to Variety production of Dolan's Cadillac won't begin until AFTER any industry strikes this summer.

Thanks to Bev Vincent
Posted: March 5, 2001, 20:47:00
According to Upcoming movies production of Dolan's Cadillac is scheduled to start in May 2001 and it's premier is set for 2002. Here is some other info about the movie from the same source:

Production Companies:
Franchise Pictures (Get Carter, Battlefield Earth)
Cruise/Wagner Productions (Mission: Impossible II)

Cast:
Kevin Bacon (Tom Robinson)
Sylvester Stallone (Jimmy Dolan)

Director:
Stacy Title (The Last Supper and Let the Devil Wear Black)

Screenwriters:
Stacy Title
Jonathan Penner
Posted: February 19, 2001, 20:46:00
Fandom.com has a review of the upcoming movie version of Dolan's Cadillac. Judging from it, this will be a rather good movie.
Posted: February 7, 2001, 20:45:00
Here is an article from The Hollywood Reporter about Dolan's Cadillac:


LOS ANGELES (The Hollywood Reporter) --- Sylvester Stallone is set to star and Kevin Bacon is in negotiations to join him in Franchise Pictures' thriller Dolan's Cadillac, based on a Stephen King novelette that Paula Wagner will produce through her C/W Prods.

The project is scheduled to start production in May with writer-director Stacy Title ("The Last Supper") directing from her own adaptation.

In "Cadillac," an innocent woman who witnesses a mob hit is murdered to protect a local boss (Stallone), and her husband (Bacon) exacts revenge.

Bacon is also in negotiations to join the cast of the action-thriller "24 Hours" for director Luis Mandoki and the Canton Co./Senator Entertainment AG. "Hours" is targeted for a mid-March start, after which Bacon would segue to "Cadillac."

The project marks Stallone's fourth film for Franchise. He starred in "Get Carter" and the upcoming "Driven" and goes before cameras in mid-April in Toronto in the company's black comedy "Avenging Angelo" with Madeleine Stowe.

Posted: February 6, 2001, 20:44:00
Rosandra reported that Kevin Bacon are currently negotiation to join the film as a husband who gets King-style revenge for his innocent wife's murder (a mob hit to protect the local mob boss).
Posted: January 30, 2001, 20:43:00
Brian Freeman reported the following interesting info today:

Here is an article that was in the Hartford Courant.


You know all those stories about name talent in Hollywood being booked and double-booked into pre-strike movies - and how there are almost no stars of marquee value left with free space on their schedules? Well, now we can tell you that even boxoffice-challenged Sylvester Stallone is hurrying into a pre-strike project - and a promising one at that.

It's Dolan's Cadillac, a Stephen King story in which Stallone will play a Las Vegas kingpin who thinks he's gotten away with murder, though the spouse of the victim has big revenge plans.

The Cruise-Wagner project (as in Tom Cruise and Paula Wagner) is scheduled to start the last week of April in Mexico. That's last minute for production and post-production, considering the strike could start June 30th.