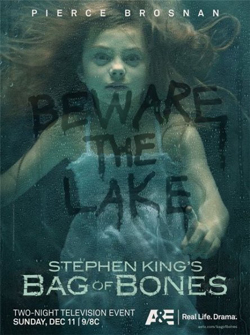 Bag of Bones
was released in 1998. Now, 13 years later, it's finally been adapted for TV. It's A&E that's going to show it as a miniseries in two parts done by well known King movie director Mick Garris. At first there where talks about it being turned into a feature movie but I think it was very vice to do it as a TV miniseries instead. Why? Well, because
Bag of Bones
is a very difficult book to adapt even for TV, a feature would have been almost impossible.
Bag of Bones
is very much about feelings, relationships and ghosts…
How does Mick Garris succeed in adapting it then? Well, I think he does a great job. There are parts missing, just as well getting that straight right from the start but as I said
Bag of Bones
is very much about feelings, relationships and ghosts and Mick only have about 2 hours and 40 minutes (without the commercial) to do it. So, yes, there are parts of the story missing and everything happens much faster in the TV series than in the book but I think Mick has captured the core of the story and that gets him a long way.
The TV series is also much more focused on Mike Noonan that the book and that makes everyone else kind of fade into supporting characters. In the book both Joe and Mattie have more of an active part in what's happening than they do in the miniseries. And the one thing I miss the most from the book is Mattie and Mike's relationship. In the miniseries we don't get to see that much of it. But still, I like this miniseries and I think it tells King's story quite well. I was however surprised of how much blood and gore there were. After all, this one is done for TV.
As Mike Noonan we see Pierce Brosnan, as his wife Jo Annabeth Gish and as Mattie we see Melissa George and they all give a good performance. We do see a lot less of Annabeth than I thought we would though. The villains Max Devore and his assistant Rogette Whitmore are satisfyingly played by William Schallert (89 years old) and Deborah Grover and we also get to see actors like Jason Priestly as Noonan's agent and Matt Frewer playing Noonan's brother. In other words, there isn't much to complain about when it comes to acting. We can't complain about being scared either. There were a few times that I really flinched and I loved every one of them. As a total though
Bag of Bones
is a very satisfying adaptation of King's book and I enjoyed it!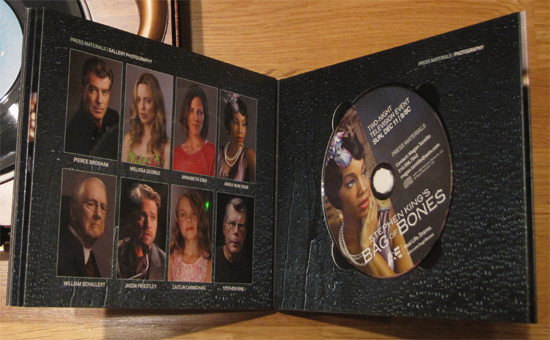 Lilja's final words about Bag of Bones:
As I said I enjoyed Bag of Bones. It's a well made miniseries that scared me a bit. Some parts of the book are missing and I do miss getting a deeper look into Mike and Mattie's relationship but, still, Bag of Bones well worth watching.