REVIEW
Masters of Horror season 2
Posted: September 11, 2008
The first thing I noticed when I got the DVD box containing the second season of
Masters of Horror
was off course the box itself. It's in the form of a skull (you can see it to the right) and if you lift the top you'll find the disks inside. And let me tell you, this is nothing like what I had expected…it's so much better. I had expected some cheep-looking plastic thing (don't know why) but this one is nothing like that at all. It's a solid skull that feels as stable as it's looking good. I was very pleased with it.
What about the movies then. Well, season two of
Masters of Horror
is a lot stronger then the first. Less time and money has been spent on sex and gore and more on the stories themselves it seams. Not that the first season was bad, on the contrary, it was quite good but in some episodes the sex and gore got the better of the episode and almost drowned the story itself.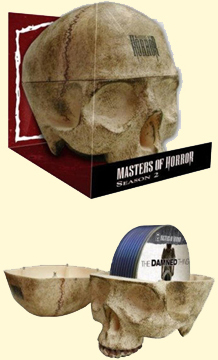 With that said I also want to make it clear that season two is far from sex and gore free if anyone thought so. Here though it's done in a better proportion to the story and when it's there it's there for the story, not the other way around.
My absolute favourite episode from season two is
Family
(by John Landis). It's excellent and George Wendt is such a good actor. I also like
Pelts
(by Dario Argento) and
Sounds Like
(by Brad Anderson) a lot. In fact most episodes in season two are good and it's a very solid and even season. There aren't any totally failures even though some of the episodes are a little weaker then the others. Still though, season two of
Masters of Horror
is really entertaining.
Oh, and each episode is also loaded with extras. There are two documentaries for each episode. One that focuses on the episode in generally and one that puts the focus on something special in the episode, often the special effects. And we also get the script, photo galleries and commentary tracks for most episodes. In other words, each episode is very well documented.
Lilja's final words about Masters of Horror season 2
If you are about to get the entire season on DVD you should definitely consider getting this skull version. It will look very nice in your DVD collection. And even if you don't get the skull box you can still get the separate episodes on single DVD's because you don't want to miss out on this one, take my word for it!