Posted: April 30, 2020, 08:31

_

The event with King and Grisham was great and even if we didn't get any news about upcoming Dark Tower books or the third Talisman book we did get some interesting news. Here is a summery of the most important things.


- - - - -


King said he would be signing books tomorrow (read today Thursday) that would then go out to smaller bookstores to help them survive the Corona crisis. No word on where those books would be sold though or how to get them. No word on that titles either but my guess is that it will be copies of If it Bleeds.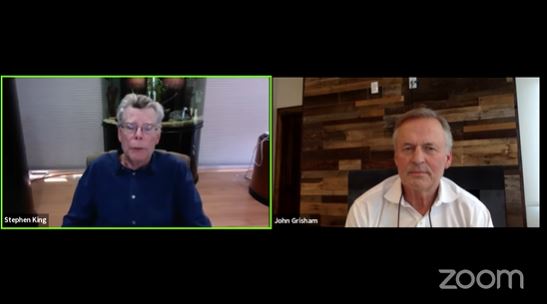 King is writing a crime novel about a hired assassin and he did talk about it as The Assassin but there is no confirmation that this will be the title. Could be something he just called it here or it could be a working title…or it could be the final title. I guess we'll see once it's published.

This seems to be the same book he mentioned in the NPR interview earlier this month when he spoke about having to change the fact that some characters went on a cruise. You can read about that here.


- - - - -


King said he was willing to collaborate with Grisham but Grisham said he had talked to Peter Straub about collaborating with King. Peter had said King works very fast and Grisham isn't sure he could keep up. My feeling was that this was mostly a joke and there aren't any serious plans on a collaboration.


- - - - -


King said they were 24 days from finishing principal filming on Lisey's Story before they were shut down due to the Corona virus. The set is just sitting in a warehouse waiting of them to resume filming.


- - - - -


King also says he has no new book scheduled for release but he has a medium length novel that is done that might be released next year, maybe as a paperback original. It's a suspense story with a supernatural twist.


- - - - -


Here is the entire event.