Posted: February 24, 2020, 08:00

_

I april kommer VARSEL I MÖRKRET i pocket från Ekström & Garay och nu har du chansen att få ett gratisex av boken signerat av redaktören Hans-Åke Lilja. Det enda du behöver göra är att med ett foto visa vad du är mest rädd för. Vad du är rädd för eller hur du visar det på bilden är helt upp till dig men du får inte använda dig av text när du beskriver din rädsla.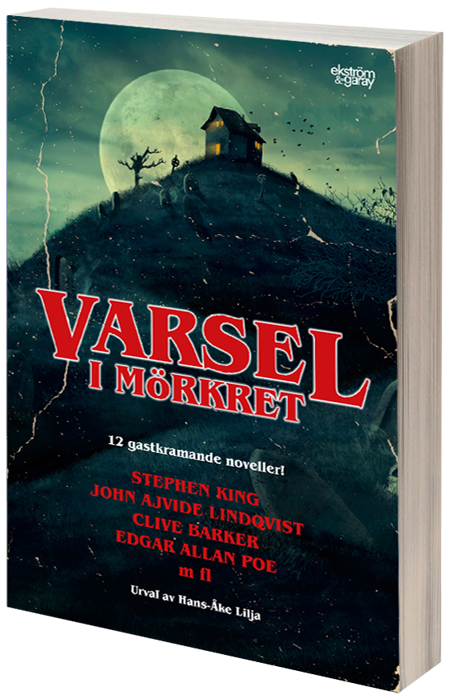 Om boken:
Ekström & Garay ger ut en samling noveller i temat skräck – VARSEL I MÖRKRET. Boken ges ut i storpocketformat och kommer den 20 april. I den finner vi prominenta berättare: Stephen King, John Ajvide Lindqvist, Edgar Allan Poe, Clive Barker och andra ledande författare inom skräckgenre. Ansvarig för urvalet är ingen mindre än Hans-Åke Lilja som driver världens ledande fan-site för Stephen King; Lilja's Library – The World of Stephen King.

Av alla inskickade bidrag kommer vi sen välja ut de tre (3) mest kreativa, unika och roliga bilderna som blir vinnarna.

Regler:
- Det finns ingen gräns för hur många bilder man får skicka in per person men varje deltagare kan bara vinna max en gång.
- Även om det får vara fler personer med på varje bild måste det framgå vem på bilden som deltar i tävlingen (kan bara vara en per bild)
- En eller flera personer får inte skicka in samma bild. I så fall kommer den sista att diskas.
- Ingen text får förekomma som förklarar din rädsla, detta måste beskrivas via bilden.
- Bilderna måste vara inskickade till info@liljas-library.com senast den 13 april 23:59 2020.
- Vinnarna kommer att presenteras på Ekström & Garay och Lilja's Librarys Instagramkonton den 20 april.