REVIEW
The Shining
Posted: August 2, 2005
So, another early King book is out as an audio book. This time it's
The Shining
and I have to tell you, this one you definitely need to listen to. The narrator Campbell Scott does a really good job both when he tells the story and when he take on the different characters, specially the Jack Torrence character. It's very believable.
I'm not sure if Campbell has narrated before but you might have seen him in the film Off the Map or Roger Dodger. After listening to
The Shining
I hope he will be hired again to narrate another of King's books. I think he would be perfect for
The Stand
if that one is ever turned into an audio book.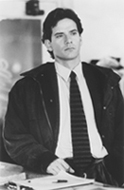 As most of you probably know
The Shining
is about the Torrence family who is set to care for the remote mountain resort, The Overlook Hotel for the winter. They will be cut of from everyone and everything for most of the winter and once they are, things start to happen.
The Shining
is definitely one of the books that made King into the writer he is today if you ask me.
The audio is on 14 CD's and about 16 hours so you got some good time in front of you. Personally I listen to most of it while painting parts on my house and this time even painting was fun. I found myself wanting to get out there so I could listen to yet another chapter.
Lilja's final words about The Shining
So, as with
Carrie
, the previously released audio book you will definitely need this one in your collection. And you don't even have to take my word for it, you can
listen to a clip online
before getting it. How about that?