REVIEW
The Wavedancer Benefit
Posted: July 15, 2002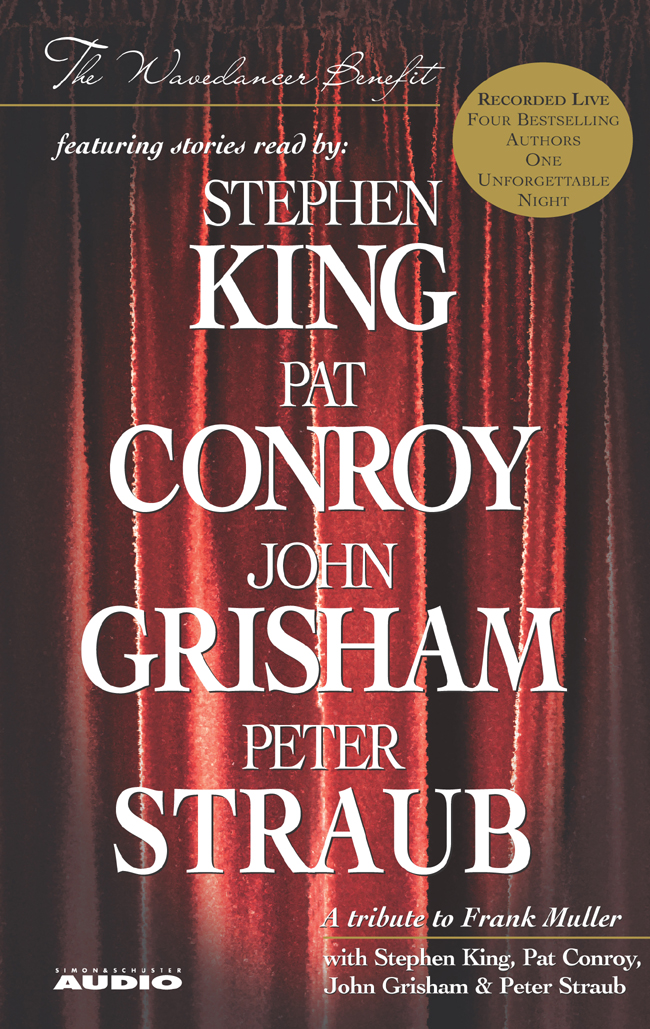 The Wavedancer Benefit
is an event that was but together by Stephen King to help his friend and audio book reader Frank Muller out when he had an accident on his motorcycle. The accident left Muller in a really bad state and his medical bill was going to be high.
So, to help him out, King got together with John Grisham, Peter Straub and Pat Conroy and preformed at a benefit that was held on February 2nd 2002 at Town Hall in New York. All four authors appeared for free and they all read or talked for about 20-30 minutes. First out was John Grisham.
Grisham first held a rather funny introduction in which he talked about King. He talks about when he stayed at the Grisham's and how he felt when King was injured in the accident a few years back. He then read from his book
The Summons
.
After Grisham it was Straub's turn. He read from the book
Black House
that he wrote with King. Unfortunately he read a pretty grim part of the book and even though the part itself is good it didn't feel right in the spirit of the event. Personally I would have chosen a different part of the book, there are better suited part.
Then it was King's turn. King was supposed to read from
Black House
as well but change his mind. In stead he read
The Revenge from Lardass Hogan
, which is part of the short story
The Body
that can be found in the collection
Different Seasons
. The reason he did this was because Muller had enjoyed recording this story. For those of you that haven't heard or read this one I can tell you that it's hilarious. Personally I think that King is a great reader and here he proves it. At one point he improvise while reading and you can hear that the audience like it as much as me.
Pat Conroy is last out. He is the only one that doesn't read from one of his books. Instead he tells the story of how he got his first book published. I haven't read anything by Conroy and I have never heard him before but I must say that he steals the show completely! His performance is the one that is the most fun, even if King and Grisham's talk about King is close followers. The way he tells about the first time he hears how much he's getting for the book made me howl with laughter.
Erica Muller talks and her and Frank's daughter keeps interrupting and asking what she is doing. Even though it's rather funny it really gives the situation a touching feeling. You really feel that this is real person and you really feel how Erica is suffering…
Lilja's final words about The Wavedancer Benefit
This is a chance for you to hear four great authors speak and to help Frank Muller, a man how has given us many hours of enjoyment reading books on tape, don't miss it! Then when you have listen to in and enjoyed all their performance you might feel that you want more and start reading works from one or more of the authors you've just heard. I know I will. So, you see. Buying this book is a win, win situation for everyone. You will get 2 hours of great entertainment and Frank Muller will get the help he deserves! Buy it today!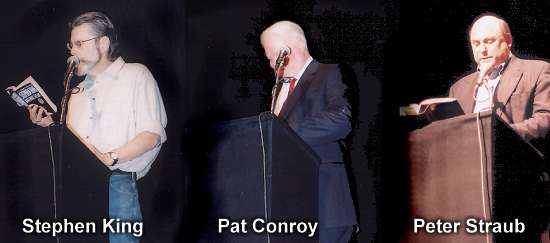 More info about Frank Muller's condition and The Wavedancer Foundation can be found here:
http://www.bitchen.com/muller/