So, season 4 of
The Dead Zone
is over. This one had 11 episodes and is by that the shortest season yet. There will however be one more episode, a Christmas special that airs in November.
Season 4 is a bit slower then the previous 3 seasons. Personally I think it's because the episodes are pretty stand-alone and not that much connected to the big Armageddon issue that I personally like so much. Don't get me wrong, Armageddon is present in season 4 but not as much as I would like. Even so,
The Dead Zone
is still one of the best shows on TV.
As usual I'm going to take a closer look at each episode and let you know what I think about them. My personal favorites this season is episode 8 (
Vanguard
) and 11 (
Saved
) but let not get ahead of our self…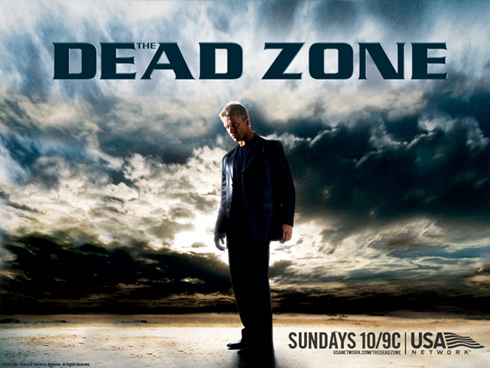 In episode 1 (
Broken Circle
) we get to see the conclusion from last season when Rebecka set out to kill Stillson. This all get it's conclusion here and it actually feels more like this episode should be in season 3 then in season 4 but it's a great way of connecting the seasons. Stillson once again shows what he is capable of doing and we get to meet a new stranger…a stranger that actually saves both Rev Purdy and Stillson…
Johnny also throws away his cane so he won't have the visions of himself from the future any more.
In episode 2 (
The Collector
) we get to meet a really creepy man. He has kidnapped a woman who he tries to turn into the perfect woman. Johnny sets out to rescue her but things get complicated by another woman that used to be in the kidnappers care…and now she wants back to him.
In episode 3 (
Double Vision
) John meets another physic and love is in the air. They meet when they are both on their way to stop a sniper from killing a doctor. Johnny then sees her in his visions and to his chock the woman also sees him. They are charring the same vision and are both in it and seeing it at the same time. Very complicated but definatley an interesting twist of things.
In episode 4 (
Still Life
) a painter's daughter is missing and Johnny who gets a painting with the daughter on delivered to his door starts to investigate. As it turns out the missing daughter isn't the painter's daughter after all. She is a stand-in for his real daughter who isn't who we think it is…
In this episode there is also a little connection to King. At one point Bruce says This the part when you start saying "Redrum"?
In episode 5 (
Heroes and Demons
) a cop is framed and sentence to death for a murder he didn't commit. His autistic son tried to helps him get cleared from the charges through Johnny. A very interesting twist.
Here we also get a nod at King's work when a person is called Mr Cujo.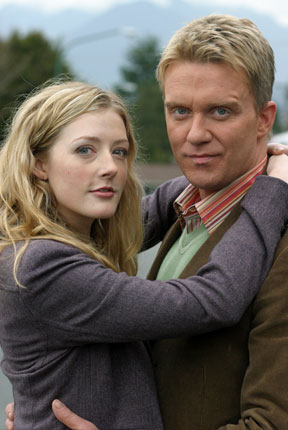 In episode 6 (
Las Goodbye
) Johnny and Sarah goes of looking for a rock star that is supposed to be dead. Now his son is a rock start as well but always gets compared to his dead father. Something that is very hard on him. His father died when his car went of a cliff and the son is heading for the same destiny…until Johnny finds out that the father might not be dead after all…
In episode 7 (
Grains of Sand
) Johnny and Bruce saves a baby from drowning when the car his mother is driving goes down in the river. Johnny tries to find the babies father but after finding out he is an illegal immigrant from Mexico he doesn't dare turn the baby over to the authority. He seas a feature full of misery for the baby boy if he would do that. Johnny instead starts to think about how it would be to become a father again…
In episode 8 (
Vanguard
), that actually follows some of the events in episode 1, Johnny is reunited with a former student that is now a successful scientist. He has discovered something that Stillson is going to use in the future to cause Armageddon. Off course Johnny can't let that happen.
In episode 9 (
Babble on
) some big questions are asked. We get to see an even that happened in Johnny's childhood in which his father was committed to an asylum. The main questions raised in this episode are 1) Did Johnny have the ability to see visions since birth? 2) If so, did he get it from his father? and 3) What really happened to his father?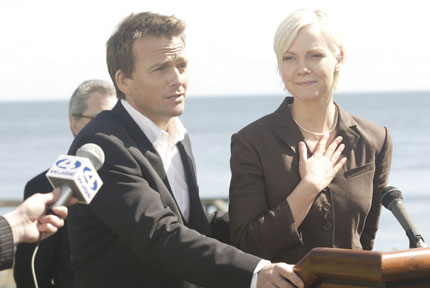 In episode 10 (
Coming Home
) Sarah's father returns home to live in the local retirement home. Sarah is worried about him so Johnny accompanies her to the retirement home. Once there, Johnny sees many of the residents dead. As it turns out they are all outside in his visions but in reality they all dies inside…
In episode 11 (
Saved
) that is the season finale we get more Armageddon. Johnny finds out Stillson killed his father when he tries to help Stillson (yes they are working together) to find his "love of his life" that has disappeared in an accident on a boat…
Lilja's final words about The Dead Zone - season 4:
So, season 4 isn't as strong as the previous one but then again, season 3 was among the best that has aired on TV and not easy to be compared with. Regardless if you saw season 4 on TV or not…go get it when the DVD is out!