Children of the Corn / Creepshow 2 (DVD
In September last year Anchor Bay released DiviMax editions of King's
Children of the Corn
and
Creepshow 2
. That a DVD is a DiviMax edition means that it has been mastered with a high definition (HD) filmtransfer process that provides state-of-the-art picture quality.
This week I got a copy of each from Anchor Bay and here I'll review both of them in the same review. I'm assuming that all of you have seen these movies since they are from the 1980's and will therefore concentrate on the extra material from the DVDs in this review.
Even so, after seeing them I made some reflections.
Children of the Corn
are a lot better then it gets credit for. Personally I believe it's because of all the sequels that have followed. The original is an OK movie though.
Creepshow 2
was done a long time ago, way back in 1987, and this becomes very clear in the documentary Nightmares in Foam Rubber. This is a really nice documentary that shows how the special effects for the movie was done and let me tell you, it's NOT the same technique as they used on
Lord of the Rings
movies… The documentary is about 30 minutes and in it Howard Berger and Greg Nicotero talks about how they did the different special effects. I really liked this one and as I said it shows that
Creepshow 2
wasn't done yesterday. This doesn't mean it's not interesting though. It's the opposite; very interesting to hear how they did what they did with a fraction of the knowledge they have today.
Other features on the
Creepshow 2
DVD consist of two different trailers, a still gallery that has behind the scenes photos and storyboards. This storyboards is a really interesting thing. They are like small art in itself. Some of them I would put on my own wall in a heartbeat. You can also read the screenplay and listen to commentaries from the director Michael Gornick and the DVD producer Perry Martin.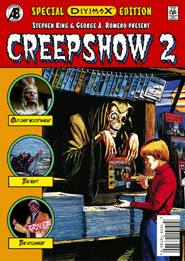 The
Children of the Corn
DVD also have some extra material. There is a new documentary called Harvesting Horror: Children of the Corn about how the movie was done. We get to see how some of the special effects where done as well as hear stories from John Franklin (Isaac) and Courtney Gains (Malachai).
There are also commentaries from Director Fritz Kiersch, producer Terrence Kirby and actor's John Franklin and Courtney Gains. And as I have said in other DVD reviews you should really take the time to listen to the commentaries on DVDs. They give you a totally new perspective of the film.
There is also a still gallery with posters, stills, original title sequence art and storyboards. And as with
Creepshow 2
the script is also included. The one really bad thing with the
Children of the Corn
DVD is the trailer. It's probably one of the worst trailers I have ever seen. I know it's from 1984 but still…
Lilja's final words about Children of the Corn / Creepshow 2 (DVD:
I definitely think that you should get these DVDs. The really neat thing about them is that it's two of the older King movies but they still have a lot of extra material. Many older movies have a trailer in best cases and that's it. Here you get a lot of interesting stuff and some of it is recorded when the DVD was released in 2004 which gives a time perspective on the movie. They will fill their places in your collection well.