Quicksilver Highway (DVD)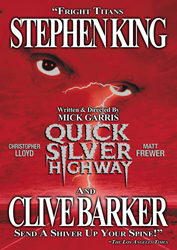 Tomorrow, May 17, Anchor Bay Entertainment releases
Quicksilver Highway
on DVD. This movie is really a collection of two shorter films. The first one is about a hand that revolts against its owner and the second about a pair of chattery teeth.
The first story, the one about the revolting hands, has the title
The Body Politic
and is based on a story by Clive Barker. It's the story about a cosmetic surgeon, Dr. Charles George, who's hand rebels against him and then led all other hands to a mass suicide. I agree that the description can sound a bit silly when you just read it like this but when you see Matt Frewer's interpretation of Dr. Charles you'll see that it's everything but silly, funny sometimes but not silly.
The second story,
Chattery Teeth
is about a traveling salesman named Bill Hogan, played very well by Raphael Sbarge, who buys a pair of chattery teeth. Chattery teeth are those big teeth that have feats and when you wind them up they keep opening and closing their teeth, chattering, while the jump up and down. When Bill leaves the place where he bought them he gets hijacked by a fellow that tries to rob him. This results in him driving the car in the ditch. And while hanging from the roof, trapped in his seatbelt, seeing the assailant approaching with a nife he gets help from an unexpected hero…
Quicksilver Highway
originally aired on Fox in 1997 and was then meant to be the pilot of a new series. Unfortunately the series never happened.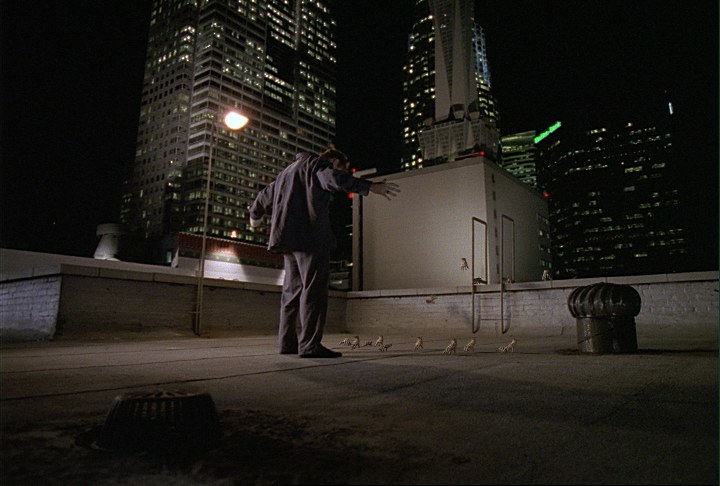 Aaron Quicksilver, played by Christopher Lloyd, presents these two stories in a wraparound story. Quicksilver is a Creepshow-looking kind of guy but real instead of animated. He is a collector of rare objects and dark tales as the cover of the DVD says and here he shares two of them with us.
There is also some extra material on the DVD and the most interesting one is an interview with Matt Frewer (10 min) who plays Dr. Charles George in
The Body Politic
. It's nice to hear how some of the scenes where shoot and what he thought about the fact that several of his co-stars where hands…
There is also a storyboard gallery. This is nice but unfortunately there are not storyboards from
Chattery Teeth
, King's story. It would have been nice to have some from both films but then maybe they didn't do any for
Chattery Teeth
.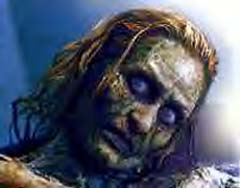 The movie also has commentary and these are really interesting. Both Mick and Cynthia Garris comment the movie. For those of you who don't know it I can tell you that Cynthia is often in Mick's movies and is somewhat of a frequent visitor in Garris King adaptations. She is the woman in the bathtub in Garris version of The Shining and she is also in Sleepwalkers, The Stand and Riding the Bullet to name a few. Here Cynthia plays the wife of Dr. Charles George in
The Body Politic
and joins Mick with comments once her part comes on.
As a last treat the
Quicksilver Highway
DVD also have the movies script on the disk. You have to read it on a computer though but it's worth it. It's so nice to get to read the scrip. It gives you another dimension to the movie. You get one step closer to the vision the filmmaker has.
Lilja's final words about Quicksilver Highway (DVD):
This is a really neat little collection that I definitely urge you to get on DVD. It's not as scary as it's funny and I say that as a good thing. It seams like he filmmakers, cast and crew enjoyed making this one and I'm sure you will enjoy watching it. I know it's not all King but I still urge you to go out and get it tomorrow when it's released.