The Dead Zone - the 2nd half of season 2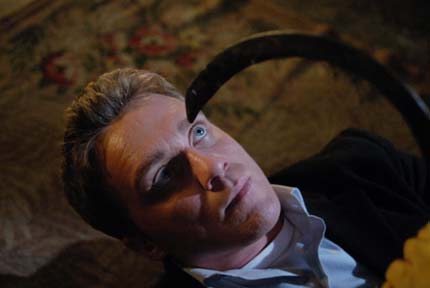 As promised, here are my thoughts on the second half of the second season of
The Dead Zone
. As it turned out season two went from 13 episodes to 12 when
The Hunt
(originally
The Hunt for Osama
) episode was canceled. The script for it is available on the official site though and after reading it I really hope that USA Network changes their minds and air it! It's a good episode in which Johnny is called in by the US government to try and find Osama Bin Laden, if he is still alive.
Later season two went from 12 episodes to 18 when USA Network ordered six more episodes. These will air this summer and once they have I will give you my thoughts on those as well. But for now, let's get on with episode 7 to 12 of season two.
In episode 7 (
Misbegotten
) Johnny gets kidnapped by some people who want to solve the mystery of a murder and at the same time do a Blair-Which-type-movie. They think that Johnny can bring out the ghosts by his visions. They are in for a BIG surprise though. This is actually on of the best episodes I have seen so far and that say something!
In episode 8 (
Cabin Pressure
) Johnny gets the ultimate nightmare vision. He and Reverend Prudy are on a plane when Johnny first sees the engine explode and then how a big hole appears in the airplane side. Can you imagine the panic? Johnny even knows when it will happen. In other words, he knows how he will die and when. I guess I'm not giving away too much by saying that he doesn't die, right? I won't spoil it by telling you how he survives though…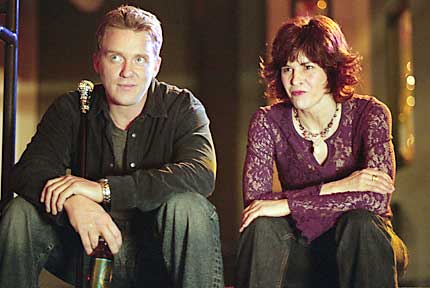 In episode 9 (
The Man who never Was
) Johnny gets more and more isolated and lonely. Everyone wants something from him and he isn't feeling safe. Then when his grocery are mixed up with another customers he gets a vision of an old man who is as lonely as he is. After having a vision of himself disappearing he looks up the old man.
When he returns the next day an entirely different family is living in the house and no one seams to know what he is talking about when he says that there use to live an old man there. After some research Johnny finds the answers by himself. The old man isn't just any old man…
In episode 10 (
Dead men tell tales
) Johnny gets involved in the Mafia. While shopping he sees a man coming in and shooting the storeowner. He warns him about it and the owner and his two companions' kills the intruder. What Johnny didn't see though is that the owner is a Mafia boss who after surviving the attack gets his eyes on Johnny. He wasn't him to help find out who wanted him dead and why. The reason isn't what you would expect though. It's actually something as simple as love.
Another thing that is great about episode 10 is that Stillson is back. And I don't think it will come as a surprise to anyone that he is involved with the Mafia, right?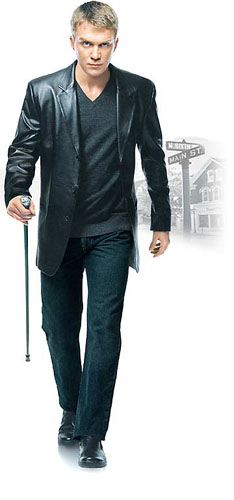 In episode 11 (
Playing God
) Johnny gets to play God. At a school reunion he meats up with his best friend and the friends sister. As it turns out his friend has a bad heart and need a transplant ASAP. If not he will die. He asks Johnny if he can see him getting a new heart and reluctantly Johnny touches him. In the vision he does in fact see his friend getting a new heart. Relieved he tells him so and with that all could be well… Could be if it wasn't for one small thing. The heart he gets is the friend's sister's who will die in an accident. Johnny is put in front of a huge problem. What does he do? Saves the friend at the expense of his sister or saves the sister at the expense of his friend? He gets to play God…
In this episode the creators have hidden some connections to Anthony Michael Hall's past. In the role of the sister and Johnny's old classmate Kate is his co-star from the movie
The Breakfast Club
; Ally Sheedy. All the references to how they where as kids in school is directly from the movie and it's quite fun to see…if you remember
The Breakfast Club
.
In episode 12 (
Zion
) Bruce has the bigger part. After attending his father's funeral he keeps asking himself if it would have been better if he had followed in his footstep and become a preacher. Then when he touches his father at the same time as Johnny touches him he goes into a vision of what had happened if he had stayed at home and become a preacher like his father wanted.
He soon discovers that it would have been the wrong decision to stay. In the vision he sees that Reverend Prudy don't like Johnny because he has sued him, Sarah and Walt are divorced much because of Johnny who is presumed to be crazy and in Bruce's vision Johnny even tries to kill Stillson (like in the book) and ends up being shoot. Needless to say Bruce ends up being happy with his past decision. And the best of all, he gets to make up and say goodbye to his dad. Another small thing in this episode is that Bruce actually cuts of his dreadlocks.
Lilja's final words about The Dead Zone - the 2nd half of season 2:
The bigger difference with these episodes compared to the earlier is that Johnny seams to feel more hunted by his visions, which is only expected. He seams to become more isolated. He even installs an alarm at the house. He seams to feel like everyone wants something from him.

Overall I think that The Dead Zone is getting better and better the more episodes I see. The characters get stronger and the actors and actresses get better as each episode passes. The only thing that I miss is to see more of Kristen Dalton as Dana. I think her character has an important part in Johnny's life but it seams that she has been absent more and more in the last episodes…

So make sure you watch every episode of The Dead Zone. You won't regret it!!!