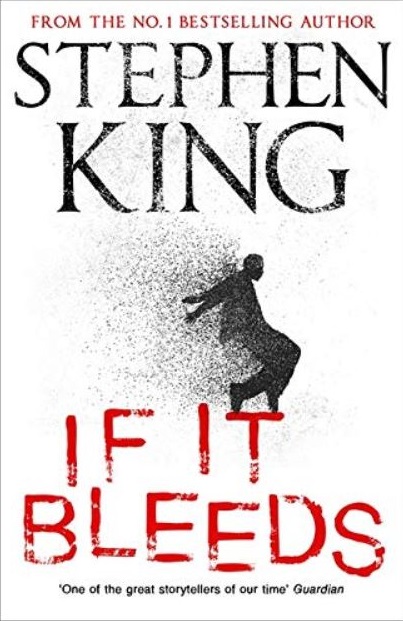 King is back with a new collection. The book is titled
If it Bleeds
and this time, we get four longer stories instead of one.
In the first story in the book,
Mr. Harrigan's Phone
we meet Craig as a young boy and throughout the story we get to follow him and his friendship (if you can all it that with Mr. Harrigan. Mr. Harrigan is a millionaire that unexpectedly moves in down the road from Craig and while not friends in the true meaning they both have an impact on each other's lives…and in some cases even in the afterlife… This is one of those stories where you as a reader have to decide what's happening and if it's happening at all…or if it's something else. I like it and think it's a good opener for the book.
The Life of Chuck
is an impressive and emotional story that's quite different from what we're used to from King. In it he tells the story of Charles "Chuck" Krantz and the unusual thing about it is that King tells the story backwards in 3 acts. Act 3, 2 and 1 and the reader goes from being unknowing to learn more and more about Chuck and his past as the story moves on. It's also a story that demands the attention from the reader. You need to focus on what's happening to understand it. And then in the end you go "was that how it was? Yeah, I think it was". A wonderful story.
In
If it Bleeds
we once again meet up with Holly Gibney. We meet her soon after the events in
The Outsider
and what happened to her and Ralph is still fresh on her mind. One day she sees a news report on TV about a school bombing. A horrible event but it's not the event itself that catch her interest. What she gets stuck on is the reporter Chet Ondowsky. At first, she can't understand why but as his reports keep coming in it becomes clear to her and leaves her no option than to act. But how and can she do it and come out the other side alive? I enjoy Holly and here we get a lot of her. Jerome and Barbara appear but this is a Holly story for sure.
Rat
is a story about Drew Larson who wants to write a novel more than anything else in the world. The only problem is that he can't. He can write short stories but not a novel. He has tried and the last time he almost burned down his house... But one day he gets an idea that "will write itself". To get started he stays in his, now dead, dad's summerhouse. It all starts out well but a bit into the story he starts to fear that it'll be the same as with the other novels his tried to write. So, partly because he thinks it's a fever dream and partly because he can't fail again he strikes a deal with an unexpected ally...something that has unintended consequences.
Rat
is a classic King story with a character you can't help liking and rooting for.
If it Bleeds
is a good collection that I'm sure I'll return to, specially
The Life of Chuck
. It's quite different and I love that you have to think when you read it...and after. I also love seeing more of Holly. I understand why King likes her so much. I do to. However now might be a good time to let her rest a bit before we visit her again. I enjoy King's shorter work as much as his longer, but it really felt it was time for a collection now. Thanks Steve!
Lilja's final words about If It Bleeds:
Again, Steve has given us a collection of four very well written stories with well-developed characters that you root for. Some are old acquaintances, and some are new but they all have one thing in common. I like them.