REVIEW
NOS4A2 Pins & Locke & Key's Key
Posted: June 17, 2019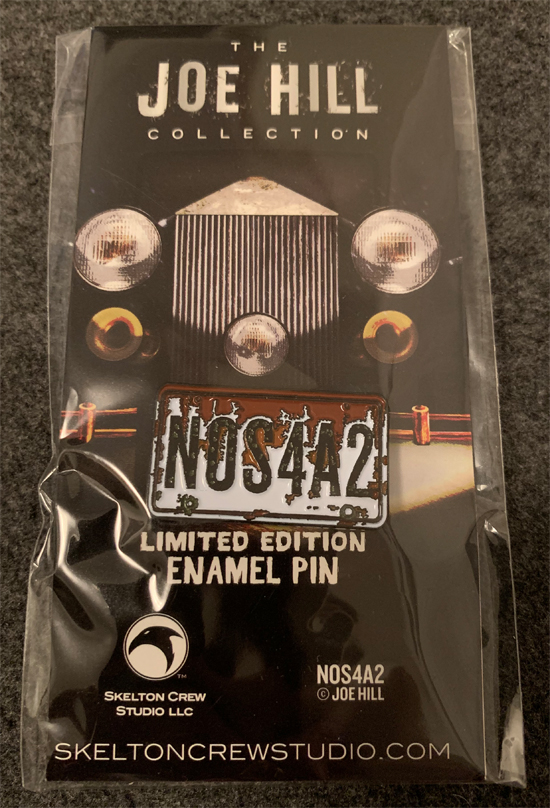 Joe Hill is hotter than he's ever been right now. He has a new book coming in October (
Full Throttle
) and
NOS4A2
is a success on AMC and today I got some really cool items. The first two are pins based on
NOS4A2
.
These weren't done specific for the TV show though. Skelton Crew created them with Hill and CP Wilson III based on the comic
Wraith
. They were done in a limited edition and very few remains. One is of the iconic license plate and the other is a banner that I can imagine hanging over the entrance to Christmasland. They are both very nice and someone who recognize Joe's work it will instantly recognize the pins as well. And even if you meet someone that have never heard of Joe Hill or
NOS4A2
they will still think these pins is a cool addition to your bag or jacket.
Another thing that I got was a key from Hill's comic
Locke & Key
. Those of you that have read the show knows that there are a lot of keys involved and what they mean. This is the Omega Key. It's a very cool key that feels like a real key. A bit bigger maybe but still I would have no problem adding it to my keychain just for the coolness of it. And for those of you out there that's looking for something new to collect. There are almost 20 different keys you can collect.
Lilja's final words about NOS4A2 Pins & Locke & Key's Key
These pins and keys are very nice and you can get both the pins and the keys from
Skelton Crew Studio
, head over there and check them out.