Nope, Nothing Wrong Here: The Making of Cujo
We have all seen the behind the scenes films made for different DVD and Blu-ray releases. They tell us (in best cases) how the movie was made and sometime (in worst case) just the people involved in the movie admiring each other (and themselves). We all know about these and we have all seen them. But how about if they were released in book form? Well that is just what's been done. In the book,
Nope, Nothing Wrong Here: The Making of Cujo
by Lee Gambin.
In the book, Lee divides the movie into chunks. He then analyses the sections and combines that with interviews from about 30 people involved in making the movie. Everyone from the sound boom operator to director Lewis Teague to star Dee Wallace. We hear from scriptwriters and the animal trainer, a stuntman who wore a dog suit and Danny Pintauro who was just a kid when the movie was filmed.
I had read the book, seen the movie several times but still I learned a lot about the movie and why the filmmakers did what they did in certain situations. Why they decided to keep Tad alive and not let him die as King did in the book, why they had a Labrador in a Saint Bernard suit and much more. It's also obvious that there was a lot of tension on set. There was some friction between Peter Medak who was first set to direct and then fired some time into filming and Lewis Teague who took over. A lot of people hired by Medak weren't all that happy to working for Teague. There was also a lot of drinking and drugging on the set. Something you can't guess when you see the movie.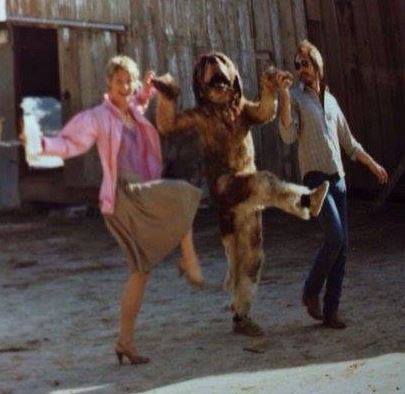 All this is mixed up with Lee's analysis of the movie, why things happened and why they did the things they did and all is accompanied with over 200 photos, many never before published that he got from the people that were there when it happened. In other words; if you want to know everything there is to know about the movie version of
Cujo
and how it happened this is the book for you.
Lilja's final words about Nope, Nothing Wrong Here: The Making of Cujo:
After reading the book I re-watched the movie and it was a totally new experience. Now I kept trying to see where Cujo was in fact a man in a dog suit and not a dog and things like that. And you know what? I really enjoyed it.