Just Desserts: The Making of Creepshow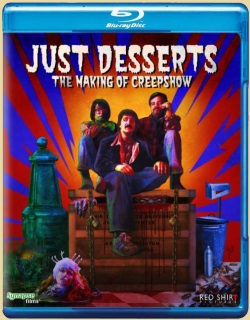 "Creepshow" was created back in 1982 by George A. Romero, Stephen King and Richard P. Rubenstein. It was an anthology film that contained five short films and a wraparound. This blu-ray, "Just Desserts: The Making of Creepshow" tells the story of how the movie was done, who starred in it, how the special effects were done and it's all told through interviews with the people who were involved in making the movie.
The interviews were done 25 years after the movie was made and a version of this documentary was released in the UK back in 2007 and now with this edition it's also released in the US. And I'm so happy that there are so much material left from the filming of the movie. Back in 1982 no one thought about DVD's or blu-rays with a lot of extra material on them. But there is a lot saved from the filming and it's very interesting to hear the people involved talk about it. They talk about it for about 90 minutes and after that we get a load of extra material that didn't make it into the documentary.
Of all these things the most interesting is something called "Behind the Screams – A compilation of on-set video footage from Tom Savini" where we get to go behind the scenes when he does his special effects magic. We get to see King being prepared to play Jordy Verill and much more. We also get a behind the scenes from a show called "Evening Magazine" from 1982. Sean Clark and his show "Horror's Hallowed Ground" visit the different places that the movie was shot. All of this is very exciting to see.
All in all this is a great documentary of the film and how it was done. We get to hear from the people involved and how their experience of doing the film was. And a lot of the actors who were in it are big stars today if they weren't it already back in 1982. The only thing missing is an interview with King himself about the movie. I would love to hear him talk about how they did it and how it was to star in it.
Lilja's final words about Just Desserts: The Making of Creepshow:
This is a great documentary that every fan of the movie "Creepshow" should check out. It's amazing that so much from the filming is saved for us 35 years after it had its premiere. I feel privileged to have gotten the chance to see it.